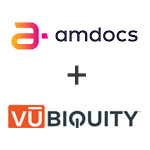 Amdocs has entered into an agreement to acquire Vubiquity for about $224 million in cash. The Amdocs Vubiquity deal is expected to close before the end of the second quarter of fiscal year 2018.
The companies serve the digital content needs of network operators, video distributors, OTT companies and companies that own and produce content. The acquisition, according to Amdocs, will buttress the company's ability provide end-to-end solutions and accelerate worldwide introduction of new communications and media services.
"Our joint offerings address the media and entertainment industry's challenge in balancing the incredible growth of content and the many ways to consume content with making programming easier, faster to deliver and ultimately watch, while also delivering profits," said Amdocs President and CEO Eli Gelman in a press release.
Amdocs Vubiquity Synergies
Vubiquity, which is based in Los Angeles, works with more than 600 film studios, television networks and independent studios. Vubiquity, formerly Avail-TVN, has deep roots in the distribution of video content to cable and IPTV providers. It offers cloud services that use microservice architectures to facilitate video acquisition, processing, consumer engagement and monetization. The company is active in 121 countries and manages an asset library with more than 150,000 assets.
Those assets will be integrated into Amdocs, which is operational in 85 countries. Vubiquity CEO Darcy Antonellis will join Amdocs as head of the company's media division. Antonellis said in a press release that what will be the former Vubiquity will gain by being part of a larger organization with global scale and complementary solutions that focus on monetization, analytics and the ability to deliver personalized customer experiences.
In September, 2017, Vubiquity and Nokia announced Time Shift as a Service, a hosted SaaS service that enables OTT providers to provide time-shifted programming options.
The explosion of digital options is driving innovation in many areas. A key – and one that the Amdocs/Vubiquity deal is meant to address – is simplifying the increasingly complex processes of preparing, distributing and presenting digital content.