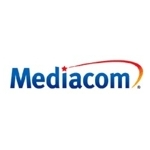 Tier 2 cable operator Mediacom announced ambitious gigabit plans yesterday, stating that it will make Mediacom gigabit service available to almost all of the three million residences in the company's service area over the next three years. The initiative, dubbed Project Gigabit, calls for the offering to be available in some new markets as early as fourth quarter 2016.
The company previously launched gigabit service last year in parts of its Columbia, Missouri on a trial basis using DOCSIS 3.0 technology, subsequently adding some other Missouri markets. But a Mediacom spokesman told Telecompetitor that moving forward the company will use DOCSIS 3.1 when upgrading existing service areas. Equipment supporting DOCSIS 3.1 wasn't available when Mediacom did the Columbia deployment, but now that the company will be using the later-generation equipment, it should more easily support higher take rates.
Mediacom Gigabit
As part of its network investment plans, Mediacom also said it would pass at least 50,000 additional homes that the company doesn't currently serve. The company won't be using DOCSIS for those homes but instead plans to use what it calls "deep fiber." The Mediacom spokesman said that will mean bringing fiber deep into the network but not necessarily all the way to the home.
Mediacom currently charges $149.99 monthly for gigabit service in markets where the service is available, and the spokesman said he anticipates similar pricing in the new markets. As of now Mediacom hasn't introduced service tiers between a gigabit and the company's previous highest-speed offering. Moving forward, the spokesman said the company has no specific plans to do so but that it is a possibility.
Some companies that have rolled out ultra-high-speed broadband service have upgraded existing speed tiers without a price increase. Asked whether such a move was in Mediacom's plans, the spokesman said "That is something we have done several times over the years. I am sure it is something we will continue to look at going forward."
Like some other cable companies, Mediacom has been quite aggressive in pursuing the business and enterprise market as well as the residential market – and that will continue to be an important investment area, according to yesterday's announcement. The company noted that it will expand its high-capacity network in downtown areas and commercial districts of its service territories to create more "lit buildings" within its footprint. The net result will be that tens of thousands of new business customer locations will be connected to the Mediacom network, the company said.
According to the Mediacom spokesman, the company's Gigabit+ Fiber offering, which targets business customers, is based on Ethernet over fiber and EPON technology. Both are compliant with MEF standards, he said.
Mediacom investment plans also call for the deployment of community Wi-Fi access points in "high-traffic commercial and public areas" within the company's footprint.