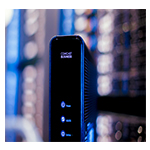 A new Amazon Web Services and Comcast deal will give Comcast Business customers the ability to connect to AWS via a direct Ethernet connection. Customers will be able to purchase service at speeds of up to 10 Gbps to connect multiple locations to AWS, which is one of the leading providers of cloud services such as production compute and storage, backup, dev/test, collaboration and website hosting.
AWS's approach to connectivity is to establish relationships with key providers through a program it calls AWS Direct Connect. Previously AWS established relationships with other U.S. network operators such as Zayo and Lightower.
Amazon Web Services and Comcast Deal
As a member of the AWS Partner Network, Comcast Business also gains the ability to connect more than 1 million Ethernet-enabled buildings in the Comcast network to other AWS services such as Amazon Elastic Compute Cloud (Amazon EC2), Amazon Simple Storage Solution (Amazon S3) and Amazon Virtual Private Cloud (Amazon VPC).
Ethernet has been a key growth area for cable companies in recent years. The cable companies have been quite aggressive in bringing fiber to office buildings, particularly in key urban centers. And while cablecos' initial focus tended to be small-and medium-size businesses, Comcast last year launched a unit focused on larger Fortune 1000 companies.
Some people argue that cable companies have been more aggressive than traditional telcos in selling Ethernet services because unlike the telcos they do not have a large base of customers purchasing legacy data services. Even some smaller cable companies, such as Mediacom, have been aggressively pursuing the business market and making considerable investment in infrastructure aimed at serving business customers.
Cable company investment in business services infrastructure is a key consideration in the ongoing debate over special access services competition. While some competitive carriers and end user organizations argue that traditional telcos remain the only option option for data connectivity to many locations and therefore should be regulated, the telcos point to cableco investment as evidence that the special access services market is competitive.