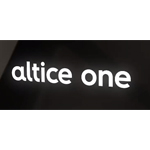 Altice USA today launched its newest operating system, Altice One Operating System (OS) 2.0.
The new operating system features enhanced mobility and more advanced features for customers, including the ability to watch cloud DVR anywhere via Altice One mobile app, the YouTube Kids app, voice search capabilities to find YouTube videos, 4K content and live show restart on more than 20 additional networks.
Altice One is available to Altice USA's Optimum and Suddenlink customers, and features an all-in-one entertainment system that includes traditional television, broadband and streaming service. The new operating system delivers live TV, DVR, On Demand, high-speed broadband, whole home WiFi, streaming capabilities, 4K high-definition video and home phone service.
Some more detailed features include:
More in 4K Ultra HD with the launch of Premier League soccer
The ability to restart live shows, after they've already begun, on additional channels including A&E, History Channel, Lifetime, Viceland, Fox News, Fox Sports 1, FX and National Geographic.
All new News 12 app with improved access to hyper-local news and information
The new operating system "has transformed the way our customers connect to the content they love by simplifying their entertainment experience and providing expansive WiFi coverage to power their homes," said Hakim Boubazine, Co-President and Chief Operating Officer, Altice USA, in a prepared statement. Customers, he said, gain new features to enjoy such as enhanced mobility with on-the-go cloud DVR, more streaming apps, enhanced voice search, and more 4K content, and is just the latest update as we continue to evolve the Altice One experience for our customers."
Altice One follows similar approaches for video operating systems at Comcast with their X1 platform and Cox with their Contour platform (which is actually licensed from Comcast and is a derivative of X1).