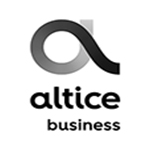 Altice USA is bringing the former business services portfolios of Lightpath, Optimum Business, and Suddenlink under one new national division, Altice Business. The move follows other unifying branding and business moves from Altice USA which recently went public.
Altice Business will standardize its portfolio of services that target the SMB, enterprise, carrier/wholesale, and international segments. Currently, Altice Business serves 375K business customers across a 21 state footprint, according to an Altice USA press release.  That multi-state footprint was formed with the purchase of Cablevision and Suddenlink from the European based Altice N.V.
Altice USA's network also includes over 14K fiber-lit locations, with over half of them (8K) located in the New York City metropolitan area. Altice Business will focus on standardized products delivered by both optical and DOCSIS based connections. Other services will include Managed WiFi and Cloud Backup services. Altice Business will also be able to tap the R&D efforts of its Portugal based Altice Labs, according to the company.
"As we introduce new products and services, Altice Business will create more value for our Lightpath, Optimum Business and Suddenlink Business customers," added Kevin Stephens, Executive Vice President of Altice Business in the press release. "Looking ahead, our customers can expect increased availability of emerging managed services and robust connectivity offerings, as well as the continued enablement of new network security solutions.
Altice Business will tap key leadership staff from its former Lightpath, Optimum Business, and Suddenlink Business divisions. The company says it will leverage its international presence and scale to add value to its U.S. based business services unit. Globally, Altice serves over 2 million business customers.
Altice USA just went public (NYSE: ATUS) and is also quite busy overbuilding their U.S. network with a 10 Gig capable FTTP network. They elected to bypass DOCSIS 3.1 for next generation broadband and go with an all fiber network. The company currently serves 4.9 million residential and business customers across its 21 state footprint.