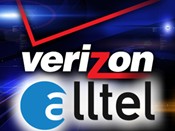 Verizon received its last regulatory hurdle to acquire Alltel when the FTC recently gave its blessing. Verizon will now become the largest wireless carrier in the U.S. with over 80 million+ subscribers (AT&T will be a close second, at right around 75 million subs, after their Centennial acquisition closes). Alltel joins a growing list of rural wireless carriers who have been swallowed by either AT&T or Verizon. Rural Cellular, Dobson Cellular, Centennial Wireless, and a host of other smaller wireless players are now a part of the Verizon and AT&T duopoly. Rural mobile carrier acquisition is an "easier" way for larger players to feed their insatiable need for growth. Their alternative, so called "organic" growth, is much harder and in a market approaching saturation, basically means taking customers from competitors. As a result, rural wireless carriers look like an endangered species.
So who's next? Lots of speculation that U.S. Cellular is next in line. There also remain numerous smaller wireless carriers across rural America. Those smaller carriers probably don't get as much interest from the big boys right now, but once all of the larger rural carriers are gone, that may change. It presents somewhat of a dilemma for small rural wireless carriers, who face very tough business challenges. Should they try to position their rural wireless company to be acquired, or do they try to fight the good fight, and march on independently? Unfortunately for them, no easy answer. Probably more than any other telecom business, wireless requires significant scale to be the most successful. I've talked with some rural wireless carrier managers who have recently sold and the response I've heard consistently is that despite decent subscriber growth for their wireless business, the CAPEX and OPEX was simply too much to handle, resulting in losses that had no end in sight. Add to that business case challenge, an intense competitive marketplace where national carrier's marketing budgets are in the nine figures, and you can see why many rural wireless carriers, large and small, are selling.
It's a tough decision for many, particularly those rural wireless carriers who have ties to a wireline company. Those rural companies recognize, just like AT&T and Verizon do, that wireless represents the future of telecom (along with broadband). Small rural carriers would like to emulate the strategies of Verizon and AT&T, which have both wireless and broadband bases covered. But in a world where 4G is already on the horizon, despite the millions it takes to get a network 3G capable, maintaining a competitive wireless network with limited scale presents enormous challenges.