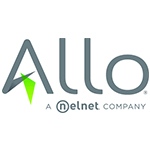 ALLO Communications has tripled the speed of its residential broadband offering from 100 Mbps to 300 Mbps in both the upstream and downstream – and done so without increasing subscription rates.
ALLO is a competitive fiber-to-the-home provider serving Lincoln, North Platte, Ogallala, Bridgeport, Scottsbluff, Gering, Hastings and Alliance, NE. It also serves Fort Morgan, CO. The company was founded in 2003.
"ALLO's all-fiber network gives us the flexibility to quickly meet increasing demand for better internet service," said Tyler Pearson, director of product development at ALLO in a press release. "Families are using more devices and bandwidth at home for applications like streaming video, uploading pictures, and doing homework. ALLO is a customer service and customer experience driven company, so we are adjusting our internet products to meet the needs of our customers. We are offering more value, faster speeds, and more bandwidth."
ALLO Communications
In early January, ALLO said that it was going to buy the fiber network and customer contracts of Glenwood Telecommunications' Hastings, NE, a subsidiary of Glenwood Telephone Members Co. The companies said that they expected approval from the Nebraska Public Service Commission early this year.
FTTH broadband approaches continue to see momentum. Late last year, Future Market Insights predicted that the global FTTH market will grow at a 14.4% CAGR during the next decade. The report said that the value of the market, which was $9.5 billion at the time of the report, will reach $37.7 billion at the end of 2027. The 100 Mbps to 1 Gbps segment will dominate and reach a valuation of $11.7 billion in 2027
Drivers of FTTH's growing popularity include more smart homes and related electronics, increased awareness of FTTH's advantages, more favorable treatment by the government, rising demand for services fiber can deliver and the desire to support more environmental-friendly technology platforms.