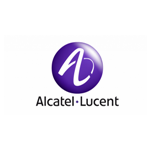 A new approach to fiber-to-the-premises from Alcatel-Lucent announced today aims to boost capacity to as high as 40 Gbps and to enable the local access network to support multiple services – or even multiple service providers. The offering, dubbed TWDM-PON for "time and wavelength division multiplexed passive optical network," uses a combination of TDM and WDM and is expected to be available in early 2015.
Also in early 2015 Alcatel-Lucent expects to begin shipping a G.fast offering aimed at boosting the speeds of fiber-fed access networks that use copper for the final portion of the connection to the customer premises.
TWDM-PON
Alcatel-Lucent's TWDM-PON technology supports up to four wavelengths per fiber, each of which can be provisioned to support speeds between a few megabits per second and 10 Gbps.
"Wavelength multiplexing means different operators can easily share the same infrastructure," wrote Alcatel-Lucent in a press release today announcing the new offering. "This can facilitate competition (for example a municipal-owned network can be leased to different service providers) or cooperation (operators can co-invest in a shared fiber network in order to accelerate ultra-broadband deployments.)
To date the largest U.S. network operators – Verizon and AT&T – have largely avoided making fiber local access infrastructure available to competitors. But AT&T recently made an exception for DSL Extreme – a reseller with whom the company has an amicable relationship – so perhaps the network sharing capability Alcatel-Lucent touts could be of interest.
Alternatively network operators may be more likely to use different wavelengths to support different types of connectivity – for example one wavelength might serve residential users while another supports mobile backhaul.
TWDM-PON also enables different types of traffic to share a wavelength – and it can co-exist with current PON technology, enabling a "pay as you grow" approach to network upgrades, Alcatel-Lucent said.
G.fast
Alcatel-Lucent said its G.fast launch will follow 12 customer trials already underway or completed. The company said its G.fast optical network terminal will provide speeds of up to 1 Gbps to an individual customer, with fiber brought close to but not all the way to the customer premises.
Several other companies, including Adtran, also are developing G.fast technology.