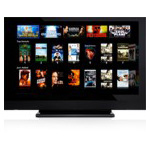 Alcatel-Lucent (ALU) supplies IPTV infrastructure to some of the largest IPTV players in the world, including AT&T. They are now hoping to expand their reach with smaller service providers. They've announced the Integrated Solution for Microsoft Mediaroom which they claim is custom built to "cost-effectively support networks of between 1,000 and 100,000 set-top-boxes."
The platform is powered by Microsoft Mediaroom middleware, another IPTV component that has been largely targeted at tier 1 carriers like AT&T. "We estimate that more than 11 million new IPTV subscribers will be served by regional communication service providers in the coming three years and this compact release is designed to help our customers better address this huge opportunity," says Geeta Chaudhary, vice president of Alcatel-Lucent's Multimedia Integration Services group.
The launch customer for this new slimmed down IPTV product is Cinergy MetroNet, a triple play service provider based in Evansville, Indiana. Cinergy is rolling out IPTV in six markets across Indiana, with a potential reach of about 50K subscribers.
ALU's Integrated Solution for Microsoft Mediaroom appears to be built to take advantage of Microsoft's push into smaller deployments for Mediaroom. Microsoft has been making a concerted effort of late to make Mediaroom more attractive to smaller IPTV operators through 'virtualization,' which they claim dramatically lowers the server requirements, and thus the costs. They have seen some momentum in the past year among tier 2 and 3 service providers with companies like SureWest, Farmers Telephone (South Carolina), and Reservation Telephone all adopting Mediaroom.
It makes for an interesting competitive match to watch as Microsoft and their infrastructure partners, primarily ALU and Motorola, push into a tier 2/3 market dominated by the likes of Minerva and NSN (courtesy of their Myrio acquisition), Cisco, Occam Networks, Calix, and Adtran. There are also a smattering of smaller players including Innovative Systems and Conklin-Intracom pursuing this market — is there enough of a market to satisfy all of these hungry players?