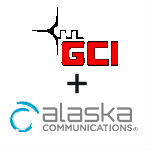 Alaska's largest incumbent telco and largest cable company today announced an unprecedented plan to create a limited liability corporation that will hold and operate both companies' wireless facilities. The incumbent, Alaska Communications, will own one third of the LLC and the cable company, GCI, will own two thirds. The LLC, to be known as Alaska Wireless Network (AWN), will sell connectivity to both carriers on a wholesale basis, with each carrier independently pricing and packaging plans developed by AWN for sale to their customers. AWN will not have its own retail customers, the companies said.
GCI will manage AWN and as part of the transaction, GCI will purchase $100 million of wireless assets from Alaska Communications and contribute them to AWN.
AWN will integrate GCI's existing HSPA+/GSM/EDGE and Wi-Fi networks with Alaska Communications' existing LTE network into a single statewide LTE/HSPA+/GSM/EDGE and Wi-Fi platform covering more than 95% of the state's population.  "In terms of data speed and geographical coverage, this platform will be the best overall wireless network in Alaska," the companies said in a question-and-answer document about the transaction. Both carriers also operate CDMA/EVDO networks, which the companies said will be integrated.
The companies said the plans were triggered by the capital-intensive nature of the wireless business. In a joint statement, the CEOs of GCI and Alaska Communications said the wireless business "requires scale to compete successfully against national carriers, and demands more spectrum than either company individually owns."
By combining wireless assets, the CEOs said the companies would be able to provide a "state-of-the-art Alaska wireless network owned and operated by Alaskans for Alaskans." Both companies would be able to "compete more effectively in the retail market," the CEOs said.
GCI, founded in 1979, now claims to be the largest telecommunications company in Alaska – and factors unique to Alaska may have contributed to its success. The state of Alaska placed particularly strict unbundling requirements on Alaska Communications – and financial analysts say that helped fuel the growth of competitive carriers. In addition GCI is rather unique among cable operators in having its own cellular network – perhaps because major national carriers did not place the same priority on the Alaskan market as they did on major metro markets in the Lower 48.
The proposed AWN transaction is subject to Hart-Scott-Rodino review and regulatory approval from the FCC, which must approve the transfer of radio spectrum licenses to AWN. Accordingly the transaction is not expected to close until the second quarter of next year.
One would expect the GCI and Alaska Communications deal to be more palatable to the FCC than other recent deals, such as AT&T's plan to acquire T-Mobile. The FCC's overriding concern always seems to be the impact on competition – and because Alaska Communications and GCI will remain as competitors, this deal should find favor with the FCC.
It's interesting to contemplate whether the LLC approach planned by Alaska Communications and GCI might be adopted by other wireless carriers seeking scale in a market increasingly dominated by Verizon Wireless and AT&T. Perhaps it would make sense for carriers like MetroPCS, Leap Wireless and/or U.S. Cellular to pool resources to create a separate wholesale entity.