Engineering firm Dewberry, in collaboration with mapping company Ecopia AI, Rasmuson Foundation and the State of Alaska, is working on a broadband map based on what Ecopia AI is calling "an accurate, up-to-date and complete map of every building, in both rural and urban areas, in the state."
Ecopia AI's specialty is applying artificial intelligence (AI) to satellite imagery to identify buildings. Using data from Ecopia AI, Dewberry's job is to identify broadband serviceable locations throughout the state for purposes of allocating funding for the state in the Broadband Equity Access and Deployment (BEAD) program. That program has a budget of $42.5 billion to cover some of the costs of bringing broadband to rural areas that currently lack service.
According to a press release, reliable geographic information system (GIS) data did not exist for rural areas of Alaska such as the unorganized borough that comprises more than 70% of the state's landmass and ranks fourth highest in population.
The Alaska broadband map news comes only a week or so after NTIA, the federal agency responsible for administering the BEAD program, told Telecompetitor that the broadband serviceable location database that the FCC made available in November would not be updated again prior to the allocation of BEAD funding targeted for this summer.
Those wishing to question whether the database accurately depicted whether a location had broadband available to it had been encouraged to file challenges by January 13 of this year. But based on the comments from NTIA to Telecompetitor, it was already too late to add locations to the database upon which the BEAD allocations would be based.
Unsuccessful Challenges
The FCC broadband serviceable location database was created by broadband mapping company Costquest, a contractor to the FCC. One of the methods that Costquest used to create the database was to use AI and satellite imaging in a manner similar to what Ecopia did.
Costquest's initial broadband serviceable location database, also known as a "fabric," was released publicly in mid-2022 and stakeholders, including service providers and state government entities, had the option of challenging that data. As Ecopia explained, Dewberry filed a challenge on behalf of the state of Alaska but only 15,074 of 378,254 challenges made were accepted. (Telecompetitor has learned from several other entities that filed challenges that only a small fraction were accepted for them as well.)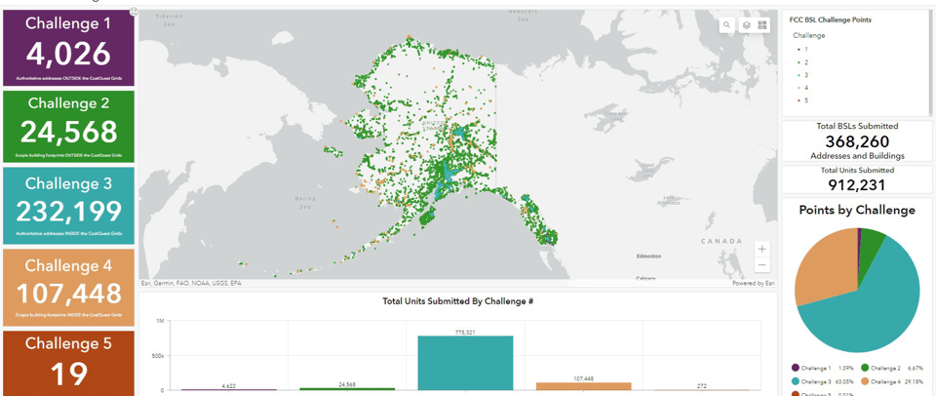 The updated broadband map made public in early January includes locations that were successfully challenged. But according to the Ecopia AI spokesperson, "Through downward pressure exerted upon the NTIA by elected representatives, it does sound like Alaska is being encouraged to submit another challenge (or several) that include BSLs [broadband serviceable locations] that were previously rejected but have been manually verified as legitimate structures if they originated from Ecopia's . . . data, or [that] originated from authoritative addresses and therefore are legitimate BSLs. Dewberry is using the remaining funds to have staff manually review [data] for preparing another challenge. We will also re-submit any authoritative address-based BSLs for consideration."
Meanwhile, some stakeholders argue against allowing any additional location challenges to be considered prior to the BEAD allocations by state because they don't want funding to be delayed. By the time states get around to awarding funding to individual service providers, more accurate maps will exist, those stakeholders argue.
It's also worth noting that if more locations were to be added to the database prior to the BEAD allocations, presumably the FCC would have to do another data collection from service providers to determine whether any provider offers high-speed broadband to those locations before the allocations could be made, generating further delays.
Those arguing against further changes to the location database prior to the state BEAD allocations argue that all states likely have a similar percentage of missing locations, which would mean that the additional locations would have little impact on BEAD allocations.
That's a generalization that may apply to most states but if there is any state that might be an exception it would likely be Alaska, simply because there are so many remote areas that may not have been previously mapped in detail.
This is a developing story that we continue to follow over the weeks and months ahead.
Updated first reference to Dewberry's name