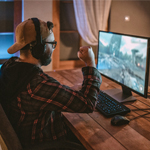 Some people and businesses are seeing slower upload and download times as the world adjusts to the COVID-19 pandemic and many people shift to remote work, putting more demand on the network. Content delivery network operator Akamai is making some adjustments with their network to address COVID-19 internet traffic management, aiming to ease congestion issues.
Telecompetitor recently reported on how broadband traffic has increased with the pandemic. OpenVault data shows that average subscriber bandwidth usage has increased by 41% during business hours.
In the blog post about COVID-19 internet traffic management, Akamai noted that some major regulators, carriers, and content providers are taking steps to reduce load during peak traffic times in an effort to avert online gridlock. European regulators have asked telecom providers and streaming platforms to switch to standard definition video during periods of peak demand.
"We have been working closely with our customers and carrier partners to maintain continuity for their businesses," Akamai said. The company noted that its intelligent edge network architecture is inherently designed to mitigate and minimize network congestion, and said "because we have deployed our infrastructure deep into carrier networks, we can help those networks avoid overload by diverting traffic away from areas experiencing high levels of congestion."
COVID-19 Internet Traffic Management
The company added that it is also working with leading distributors of software, particularly for the gaming industry, including Microsoft and Sony, to help manage congestion during peak usage periods. This is very important for gaming software downloads which account for large amounts of internet traffic when an update is released — a software update for a modern game generates an amount of traffic roughly equal to 30,000 web pages. In regions where demand is creating bottlenecks for customers, Akamai said it will be reducing gaming software downloads at peak times, completing the downloads at the normal fast speeds late at night.
"Playing video games enables people all over the world to connect with friends and family and enjoy much needed entertainment during these uncertain times. Our goal is to partner with other leaders in the industry to help ensure gamers are able to enjoy engaging experiences," said Jim Ryan, President, and CEO, Sony Interactive Entertainment, in a the Akamai blog.