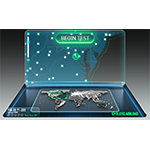 The average U.S. broadband speed rose to 12.6 Mbps in the third quarter of 2015 – an increase of 9.4% over the same period a year earlier, according to the latest Akamai State of the Internet report, released today.
Average connection speed measures the average amount of data flowing over a broadband connection. To gauge the capacity of a user's connection, a more appropriate data point is the average peak connection speed.
The average peak connection speed in the U.S. was 57.3 Mbps in third quarter, according to Akamai – an increase of 18% over the same period a year earlier.
The gains in average and peak connection speed likely reflect both increased broadband demand and wider availability of higher-speed broadband services.
The Top States
Some states are considerably more heavily connected than others, according to Akamai.
Eight of the top 10 states for both average and peak broadband connectivity were in the eastern U.S.  The same two non-eastern states – Utah and Washington — appeared on both the average speed list and peak speed list.
Traditionally Delaware has outperformed other states on Akamai lists, although the District of Columbia topped it on both lists in the second quarter of 2015.
For third quarter, the District of Columbia retained the top spot for average connection speed, at 19.5 Mbps, with Delaware holding second place at 18.5 Mbps. Delaware won the top spot for peak connection speed, however, coming in at 86.6 Mbps – a 14% increase over last year. The District of Columbia took second place at 80.2 Mbps.
All states in the top 10, measured by average connection speed, has average connection speeds of 14.8 Mbps or higher. All states in the top 10 measured by peak connection rate had peak connection rates of at least 68.6 Mbps