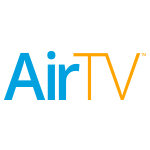 AirTV has upgraded their platform which integrates over-the-air (OTA) local broadcast channels with streaming OTT video.
The growth of streaming services has given a second life to OTA. The new AirTV system enables free local channels received at homes via antennas to be sent to Internet-capable televisions via the home's WiFi network. The channels can then be viewed via the Sling TV or AirTV app on Roku or Amazon Fire TV and iOS and Android devices.
"Our new AirTV solution solves two problems: first, it blends free local channels with OTT television, something customers have demanded since the advent of streaming," Mitch Weinraub, AirTV's Director of Product Development said in a press release. "And, because it's a Wi-Fi-enabled device, you can power your entire home with one OTA antenna, simplifying the installation process."
The approach eliminates troublesome steps such as wiring rooms with multiple antennas. An antenna can be placed in the best location for reception without regard to where the televisions are. AirTV receives signals from the in home network – which can be wired or wireless – and the digital antenna. One of the two streams supported can be viewed outside the home on mobile devices.
This upgraded AirTV platform improves on an earlier version which integrated OTA content and streaming OTT video, but required an individual antenna for each device. Customers now only need one antenna to distribute OTA content inside and outside of their home. AirTV retails for $120.
In October of 2017, Roku announced the OS 8. It too is designed to more fluidly consolidate antenna-delivered free programming.
This is a growing market. In March, Parks Associates said that the percentage of U.S. broadband homes that use digital antennas for live TV viewing was almost 20% at the end of last year. That was a significant increase from the end of 2015, when only 16% of households used the method.