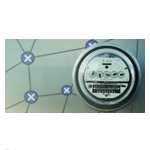 Here's somewhat of a vote of confidence for the new wholesale 4G network proposed by LightSquared. Airspan, a supplier of wireless broadband equipment, has partnered with them for a broadband wireless SmartGrid solution, offering wireless backhaul and middle mile connectivity for utilities and others in the SmartGrid arena.
Airspan will combine LightSquared's licensed 1.4 GHz spectrum with their equipment and professional services to provide a solution "… that will maximize overall network capacity and real-time system responsiveness required to enable nationwide Smart Grid projects."
"The utilities market is evolving rapidly as we position America's infrastructure for the next century and we are in a unique position to enable Utilities to deploy 4G and other broadband solutions for control and monitoring of critical grid elements," said Eric Stonestrom, CEO of Airspan in a press release.
Should the partnership work, it provides yet another possible example of how SmartGrid can empower utilities to greatly expand their broadband prowess, and in this case, deploy a 4G wireless backhaul solution.