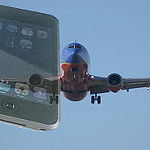 Gogo announced last week it is developing its next-generation wireless communications aviation industry platform to dramatically improve airline WiFi performance. The new ground-based technology will offer connectivity and quality equivalent to that experienced via completely terrestrial broadband wireless systems, according to management.
That includes seamless video and multimedia streaming for business aviation aircraft, commercial regional jets and select narrow-body aircraft flying routes in the U.S. and Canada, Gogo explains in a press release.
"We now have upgrade paths to more than 100 Mbps for both our North American ground-based and our global satellite networks," company president and CEO Michael Small was quoted.
Airline WiFi Performance
To achieve this, Gogo's next wireless aviation broadband platform will make use of 4G LTE and unlicensed spectrum, a proprietary modem and a new ¨beam-forming antenna¨ and leverage its first-generation North American network of more than 250 towers.
Aircraft equipped with Gogo's current air-to-ground technologies will only need to install a new modem and blade antenna to make use of Gogo's new platform. "Leveraging our first generation network is key to making this next generation network highly reliable and economical to deploy," Gogo CTO Anand Chari elaborated.
"Gogo's next generation network will also be backward-compatible with Gogo's first generation network, which means an aircraft will be able to seamlessly switch between Gogo's two networks similar to how a cell phone on the ground connects to the fastest available network."
Gogo's next-gen beam-forming antenna technology improves significantly on its predecessor, as well offering advantages in terms of latency as compared to satellite solutions, according to the company. Equipment is low cost, low in weight and can be installed overnight, management adds. The antenna's small size also adds low drag on aircraft.
Gogo has struck up partnerships with 16 commercial airlines and has provided in-flight Internet connectivity on more than 2,800 commercial and more than 7,000 business aircraft. Every major business aircraft manufacturer offers the option of installing Gogo across their fleets, management adds. This updated airline WiFi performance won't be available until at least 2018, Gogo says.
Image courtesy of flickr user Alan Levine.