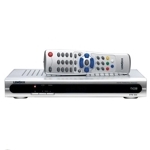 Assuming the Google acquisition of Motorola Mobility is approved, Google will join the virtual STB duopoly of Motorola/Cisco. That already has some advocates of smaller independent video providers concerned. Many of these tier 3 video providers have been looking beyond the duopoly, opening the door to smaller STB players like Entone, Amino, and increasingly TiVo.
Cases in point – two recent announcements concerning STB choices highlight the growing appetite to look beyond Cisco and Motorola. Grande Communications, a San Marcos, Texas based cable MSO has selected the TiVo Premiere for future DVR STB deployment. The TiVo Premiere combines linear TV, DVR, OTT video, and other VOD offers into a single user interface. "As a result of the new relationship, TiVo Premiere DVRs and TiVo's multi-room solution will become the foundation of Grande's advanced television offering, providing its customers with a best-in-class entertainment experience not available from satellite and telco offerings in market today," said TiVo in a press release. Grande joins other MSOs, including Suddenlink, RCN, and Charter in selecting the TiVo Premiere STB option. IPTV providers have to look elsewhere beyond TiVo, since the Premiere platform does not support IP video.
That opens the door for companies like Entone, a Cupertino, California based STB provider. Entone's legacy is with IPTV providers, but they also have aspirations of reaching into the cable MSO market. Their most recent win is Wyoming based TCT, who selected Entone's Fusion TV STB platform. "By integrating the best of live HDTV and online services, Entone allows us to more effectively utilize our broadband infrastructure to deliver what has been promised in an IPTV solution and to offer differentiated services in a competitive market environment," said Richard Wardell, Network Manager at TCT in an Entone press release. Like the TiVo Premiere platform, Fusion TV can combine linear video, DVR, VOD, and OTT content into a single user interface.
A potential Googlerola is clearly on Entone's radar. "We don't know what Google plans to do with the Motorola settop box business but it's hard to see how this deal benefits the operators," said Entone CEO Steve McKay in a recent open letter to the industry.