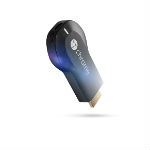 Google recently celebrated Chromecast's first birthday, and reveled some usage statistics. "A thumb-sized media streaming media device that plugs into HDMI ports on TV sets," Chromecast users can beam online shows, movies, music and other streaming digital content to their TVs from their smartphones, tablets, and PCs by setting up a simple mobile app.
Users have hit the Chromecast app's "cast" button more than 400 million times since the product's launch last year, according to a post on the Google Chrome blog. Chromecast competes in the crowded streaming media market with the likes of Roku, Apple TV, and Amazon Fire TV, among many others.
To boost usage, Google has been adding mobile apps, such as WatchESPN, Pandora, Hulu Plus, HBO GO and PBS Kids to Chromecast. It's also been beefing up Chromecast's feature set with enhancements such as the ability to mirror users' Android devices on TVs, as well as expanding Chromecast's retail outlet footprint, which is now available in 30,000 stores in 20 countries.