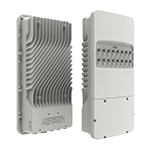 Adtran has expanded its Software-Defined Access (SD-Access) portfolio with 2nd generation Gfast products capable of supporting gigabit speeds, the company announced today. Adtran gigabit Gfast technology conforms with Amendment 3 of the ITU-T Gfast standard, which enables Gfast to provide aggregated bandwidth of 2 Gbps.
That standard doubles the usable spectrum from the previous 106 MHz to 212 MHz. Adtran says that its Gigabit to the Basement (GTTB) deployment model enables the provision of Gigabit services without the need to deploy a distribution fiber from the feeding cabinet to the Gfast DPU. The ADTRAN's Gfast DPUs are open network elements designed to easily integrate into any modern software-defined architecture, according to the company.
Gigabit Gfast
"Second generation Gfast solutions can allow operators, municipalities and regulatory agencies another delivery path to meeting the goal of delivering Gigabit speeds to consumers," IHS Markit Principal Analyst, Service Provider Technology John Kendall said in a prepared statement. "The current Gfast market is set for strong growth as leading service providers are ramping deployments as a natural extension of their fiber investment strategies and Gigabit service rollout plans."
An additional benefit of 2nd generation Gfast is the ability to coexist with VDSL2 and still be able to deliver gigabit type performance. Gfast deployments gained some momentum this year across the globe. Here in the U.S., AT&T is using the technology to venture outside of its incumbent territory and compete with other telcos and cable companies in attractive MDU environments. Frontier, CenturyLink, and Windstream, among others are also leveraging the technology.
Point Topic estimates that Gfast was available to 3 million locations globally, as of early 2018, but with limited penetration. Just over one-quarter of service provider respondents to a Broadbandtrends survey said they had live ongoing Gfast deployments.