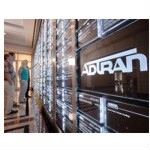 G.fast dynamic time allocation is now available on equipment from Adtran, the company said today. Dynamic time allocation automatically adjusts the amount of bandwidth that is allocated to upstream and downstream communications in response to consumer usage patterns, explained Kurt Raaflaub, Adtran head of solutions marketing, in an interview.
G.fast is an increasingly popular method of boosting the bandwidth that existing copper twisted pair or coaxial cabling can support by supplementing it with fiber between the central office and a neighborhood G.fast distribution point.
G.fast Dynamic Time Allocation
The current G.fast standard delivers aggregate bandwidth in the range of 750 Mbps over a copper connection of 100 meters, Raaflaub explained. By enhancing it with G.fast dynamic time allocation, the majority of the entire 750 Mbps bandwidth can be directed upstream or downstream. Alternatively, an individual connection can support symmetrical connections in the range of 350 Mbps bi-directionally.
G.fast is a time-division duplexed (TDD) technology, Raaflaub explained. "G.fast has 36 timeslots that you can allocate," he said. "You pre-allocate them dynamically every couple of milliseconds. Software sniffs out what's going on and rapidly makes those changes."
There is one important limitation for G.fast dynamic time allocation technology. It is suitable for low-crosstalk environments such as single pairs or coaxial cable or, according to Raaflaub, for bonded connections. But it shouldn't be used where two or more wires in the same binder are used to serve different customers, he said.
The Adtran G.fast dynamic time allocation capability is made possible by components from G.fast technology developer Sckipio, which means that other vendors of G.fast devices also could offer the technology soon. Raaflaub noted, though, that "there are not a lot of other guys using that chip."
Software Defined Access Network Elements
Also today Adtran announced software defined access network elements including:
Passive optical network optical line terminals (PON OLTs)
Fiber-to-the-distribution point (FTTdp)
IP/Ethernet aggregation, fabric and Carrier Ethernet 2.0 access switches/ routers
Highly-programmable customer devices such as residential gateways, WiFi access points and virtual customer premises equipment (CPE)
The elements rely on Adtran's Mosaic software defined network architecture that includes a cloud platform, an operations system and programmable network elements.
The offerings use concepts of network functions virtualization (NFV) and software defined networking (SDN). But while the ultimate goal of NFV is to enable network operators to download software to generic hardware to replace current point solutions, the Adtran offering could be thought of as a transitional approach.
Although some network elements qualify as generic "white boxes," Raaflaub explained, that's not true across all devices.  For example, he noted that "from the central office to the distribution point is our specialty hardware built in an open fashion."