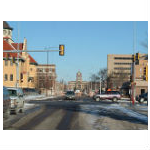 Telcos are likely to use a mixture of technologies — including fixed wireless, copper bonding and vectoring – to meet deployment requirements of phase two of the Connect America Fund (CAF), said Kurt Raaflaub, head of strategic solutions marketing for broadband equipment supplier Adtran, in an interview.
While fiber-to-the-home would be the most future-proof broadband upgrade, Raaflaub doesn't see it as being cost-effective for CAF II deployments, at least not on a widespread basis. He noted that carriers will be able to meet CAF II broadband speed requirements with these other technologies. CAF II requirements range between 10 Mbps downstream/ 1 Mbps upstream and 25/3 Mbps, depending on deployment costs.
"You have to leverage what you have," Raaflaub commented.
While CAF II applies specifically to the nation's largest price cap carriers, requirements are similar for smaller rate of return carriers who get funding through the high-cost Universal Service Fund to serve many of the nation's most rural areas.
Connect America Fund Broadband Technologies
We talked to Raaflaub as Adtran was getting set to announce that it has shipped its 10 millionth vectoring port. Vectoring is noise cancellation technology that improves the bandwidth of copper broadband technologies such as VDSL2 when serving multiple customers over the same bundle of copper wiring, explained Raaflaub. When used with VDSL2, vectoring can support speeds in the range of 100 Mbps over a single copper pair over distances of no more than about 3,000 feet.
"The more customers you have, the more they interfere with each other," he said. Vectoring relies on computational technology that is in constant contact with all endpoints, which constantly report their noise levels, he added.
Vectored VDSL2 makes sense in areas where service providers can bring fiber or another type of high-speed connectivity to a point from which multiple customers can be served, Raaflaub explained. It also can be used for backhaul by deploying it in a daisy chain configuration that uses the technology in both the uplink to the central office and the link to the home, he noted.
In less densely populated areas, where multiple customers cannot be served from the same high-speed aggregation node, bonding or fixed wireless may be better options, Raaflaub said. Bonding uses multiple copper pairs to boost the bandwidth that can be delivered over longer distances.
One technology Raaflaub doesn't expect to see used heavily in CAF deployments is G.fast. That technology can support speeds up to 1 Gbps, exceeding what VDSL2, even with vectoring, can support. But according to an Adtran solution brief, G.fast requires high-speed backhaul to be brought to within 1,000 feet of customers.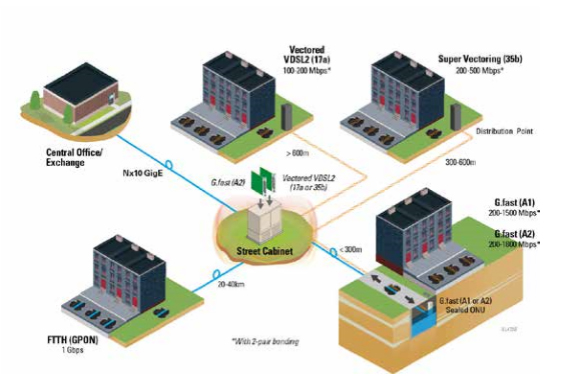 The FCC recently opened the door to the possibility of Connect America funding being used to support gigabit deployments in areas where incumbent price cap carriers declined funding. That funding will be awarded through a competitive bidding process, with funding going to the carrier with the lowest weighted bid.
Bids will be weighted using a system that favors carriers who offer to deploy higher-speed services. The top tier, which is most favorably weighted, calls for speeds of 1 Gbps/ 500 Mbps.
It's important to note, though, that the auction is designed for bidders to ask for no additional funding beyond what was offered to the incumbent.