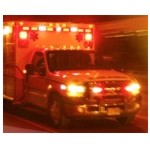 With AT&T as a key supplier, the state of Kansas has undertaken a major upgrade to its 911 system that could serve as a prototype for the sort of upgrade that 911 administrators nationwide should be considering soon if they aren't already.
"There is an expectation on the part of our citizens that if they typically communicate with their friends and family via text messaging, picture messaging, etc., that they can communicate with 911 in those same ways," said Dick Heitschmidt, chairman of the Kansas 9-1-1 Coordinating Council, in an email to Telecompetitor. "To meet these expectations, we must migrate from the outdated legacy technology to an Internet protocol-based network platform."
To support that migration, the Council was able to obtain to use state grant funding, which is created through the state 911 fee on prepaid wireless devices, to cover non-recurring costs of a network and equipment upgrade.
"PSAPs will pay a flat fee for each workstation that they put into service," explained Heitschmidt. "This flat fee will cover the PSAP recurring costs and create a cash reserve for later upgrade of the system. The Council will cover the recurring costs of the core network with state grant funds."
As of now 64 of the state's 117 PSAPs have indicated that they want to participate in the statewide system.
AT&T NG911
AT&T's role in the next-generation (NG911) system upgrade will be to provide cloud, wireless and wireline technology. The company will create a private cloud service to support the new system, which 911 call takers will access via secure high-speed connections. AT&T also will manage the service, which will use AT&T's LTE network for backup connectivity to the cloud.
"Speed, reliability and security are such significant issues around public safety," said John Irwin, AT&T senior vice president of government, education and healthcare, in an interview. The solution that AT&T has assembled for the state of Kansas "accomplished all three," he said.
An important capability of the new system is that authorized individuals will be able to log in, manage calls and dispatch emergency services from any PSAP linked to the system. That's a capability that could provide business continuity in the event of a problem with an individual PSAP. Potentially it also could facilitate PSAP consolidation if 911 administrators were to choose that option.
AT&T is offering similar next-generation 911 solutions in several other states and expects more wins, Irwin said. He also noted that broad deployment of next-generation 911 could help support AT&T's plans to transition today's TDM-based network infrastructure to IP.
"It would reduce the need to maintain TDM at a time when we are transitioning the network," Irwin noted.