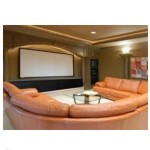 There is some speculation this week that Hollywood studios may be tinkering with the movie release window structure, and bringing movies to home living rooms sooner than usual. The Wall Street Journal reports that Time Warner Cable is having constructive discussions with Hollywood studios about a home theater on demand concept.
The concept would allow some movies to be released as early as 30 days after theatrical release for home video on demand viewing, at a premium price. Such a move would disrupt the current movie release window, where movies are slotted in certain windows for release, starting with theaters and ending with broadcast television. All along the way, certain distribution partners, including hotels, airlines, DVD, VOD, premium movie channels (i.e. HBO, Showtime), etc. all get exclusive 'windows' to air/rent/sell the movie release.
This potential new arrangement would let VOD for certain releases leapfrog towards the front of the line. In return, subscribers would pay a hefty premium – maybe $20 to $30 – to watch the movie at home on their home theater. It's a concept that's been discussed for a while. Hollywood studios seem more willing to tinker with release windows to try to keep pace with the impact of digital media on their business model. They hope to learn from the mistakes of the music industry, which badly managed this transition and paid a hefty price for it.
Service providers like Time Warner Cable may gain some advantage over competing OTT video streaming services (i.e. Netflix), if they can get Hollywood to give them a release window ahead of those emerging competitors. Nothing has been decided yet and there is more to be worked out before this concept becomes reality, but it may represent a glimpse into one potential future for VOD and the monthly subscription video model.