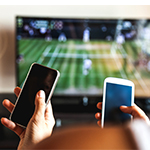 Windstream is the latest broadband carrier to join the growing number of YouTube TV partnerships. The streaming TV service which offers a live channel line-up is increasingly looking to broadband carriers to help grow its base in a competitive streaming TV market.
Windstream and YouTube will market YouTube TV to Windstream's Kinetic broadband customers, offering the streaming TV service as an alternative to traditional pay-TV service. YouTubeTV partnerships also include a similar deal with Cincinnati Bell. Verizon is in bed with YouTube TV as well. I suspect more partnerships are on the way.
"Partnering with YouTube TV gives our customers a way to cut the cord without sacrificing live, local coverage and seamlessly access the latest on-demand content," said Jeff Small, president of the company's consumer and small and midsize business segment in a press release. "Fortunately, for our customers, the reliable high-speed network delivered by Kinetic is the best place to enjoy streaming video."
YouTube TV Partnerships
YouTube TV competes with a number of streaming platforms, including Sling TV, AT&T TV Now and fuboTV, among others. It offers an OTT alternative to traditional pay-TV service, including local broadcast channels. Plans start at $49.99 per month.
The highly competitive nature of streaming TV claimed a recent victim, with Sony's PlayStation Vue shutting down earlier this year, having amassed only 500K subscribers by some estimates. YouTube TV reportedly has about 2 million subscribers.
YouTube clearly sees the broadband carrier channel as a good fit for YouTube TV partnerships to help grow its base and compete more effectively. Terms of these partnerships have not been released, but given the razor thin margins for video service, I doubt it's that lucrative for YouTube TV partners.
In some ways, the financial terms may not be that important. Windstream offers its own traditional video product, but that's not stopping it from partnering with a competing streaming TV service. Broadband is the revenue and profit margin workhorse for carriers like Windstream, so adding a streaming TV option to enhance broadband (and remove video service headaches in some instances) makes a lot of sense to them and others.