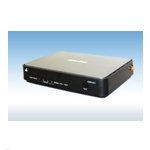 One concern regarding 4G wireless, at least among wireline service providers, is will the mobile broadband service it enables be compelling enough to entice DSL and other wireline broadband customers to cut the broadband cord? The short answer is — of course it will. But for how many? That's the million dollar question.
Actiontec introduced some equipment which will enable this broadband cord cutting behavior – their 4GRN router portfolio. The new customer-premises-equipment (CPE) is targeted for home use and has a 4G radio built into it for broadband access across a 4G wide area network.
"Broadband service providers are able to directly control the 4G radio, giving them the ability to deploy 4G service as an integrated part of their service portfolio, as well as provide support and management for the device and service.  In addition, unlike other LTE devices, the 4GRN family supports TR-069 remote management capabilities to help service providers offer superior customer experience and support, with fewer costly truck rolls," reports Actiontec in a press release.
Actiontec intends to market the CPE to service providers directly, enabling them to offer a home 'wireline equivalent' broadband service using their 4G wireless network. The 4GRN family also offers wireless N networking, a Gigabit Ethernet switch, coax networking for satellite support, and FXS ports for supporting VoIP/VoLTE.
Conceivably this box could support a full triple play, potentially bypassing the incumbent provider for all three services. This is of particular interest since there are rumors that Verizon and DirecTV are testing a satellite/LTE bundled service for their non-FiOS territories. It's also worth noting that Actiontec is an existing supplier of Verizon.