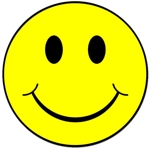 American pay-TV customer satisfaction was even worse in the roughly 12 months from May 17, 2016 to April 25, 2017 than it was in the period prior, according to the latest ACSI (American Customer Satisfaction Index). Overall customer satisfaction with their pay-TV subscription services dropped 1.5 percent, to 64, tying with Internet Service Providers (ISPs) for last place among the 43 industries tracked.
Wireless telecom services was the only telecom industry segment for which customer satisfaction improved over the period, rising 2.8 percent for an overall ACSI score of 73.  That for ISPs, fixed-line telephone and cell phones was unchanged. Pay-TV customer satisfaction was the only one which experienced a decline, ACSI highlights.
Wireless Customer Satisfaction
ACSI attributed the uptick in cell phone customer satisfaction to an escalation of the price war between U.S. cellular telecom services providers. That stands in sharp contrast to other telecom market sectors, where customer choice is more limited. Prices are competitive, service is better and hence customer satisfaction with their cell phone services is higher, according to ACSI.
Gains were greatest among smaller wireless carriers, customer satisfaction for which as a group rose 3 percent to 79.
Turning to larger providers, Sprint's ACSI customer satisfaction score rose 4 percent to an all-time high 73. T-Mobile tied with Sprint for the highest customer satisfaction among U.S. cell phone service providers. T-Mobile's ACSI customer satisfaction score dropped 1 percent over the period, however.
Verizon's overall ACSI score rose 4 percent to put it in a tie with U.S. Cellular with a score of 74. AT&T Mobility brought up the rear, though its overall ACSI score rose 1 percent to 72.
ISP Customer Satisfaction
Verizon's fiber optic Fios service ranked atop ACSI's ISP league table. Customer satisfaction with Fios Internet service dropped 3 percent to 71 over the past year, however.
AT&T's U-verse ranked second with an overall ACSI score of 69, up a strong 8 percent year over year. Altice's Optimum dropped 1 percent to 68, while the company's Suddenlink Internet service's overall ACSI score came in at 66, up a strong 8 percent as well.
Broadly speaking, customer satisfaction with ISPs remains at the bottom of the 43 industries covered in ACSI's annual report series. Slow and unreliable service is compounded by limited competition, according to ACSI.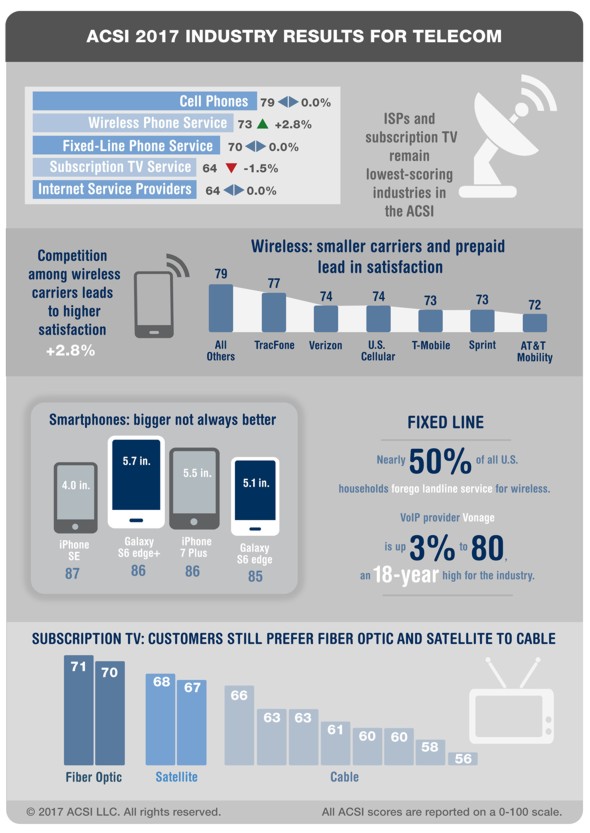 Pay-TV Customer Satisfaction
Turning to pay-TV subscription services, customers continue to prefer fiber optic service connections above all, and satellite connections as opposed to cable, ACSI found. That was reflected in Verizon's Fios taking the top spot in ACSI's latest ranking with a score of 71, up 1 percent from last year.
AT&T took both the number 2 and number 3 positions. Customer satisfaction with U-verse rose 1 percent to 70, while that for DirecTV remained unchanged at 68.
DISH scored lowest among satellite pay-TV providers a 67. Now part of Altice USA, Optimum scored highest, a 66. Another Altice-owned service, Suddenlink's ACSI customer satisfaction score came in at 63, up 2 percent year over year.
Customer satisfaction with Charter Communications' Spectrum improved most, rising 5 percent to 63, which was due in part to its merger with high-scoring Bright House Networks, ACSI notes. Cox Communications' ACSI score rose 3 percent to 61. Time Warner Cable's ACSI score rose 2 percent to 60 as its merger with, and anticipated 2018 rebranding to Charter, proceeds.
This year's ACSI report marks the debut of Frontier Communications in the rankings in the wake of its acquisition of fiber-based pay-TV services in California, Florida and Texas. Frontier's inaugural ACSI score came in at 60, tying it with Time Warner Cable.
Also noteworthy, Comcast Xfinity's overall ACSI score tumbled 6 percent to land at 58. That for Mediacom held steady at 56, continuing its run as the lowest rated pay-TV service provider in the nation.
"The threat of competition does not appear to be encouraging improvement fast enough for pay TV," ACSI chairman and founder Claes Fornell was quoted in a press release.
"Customer service remains abysmal, and viewers are continuing to switch over to streaming services with much higher customer satisfaction. More than half a million subscribers defected from cable and satellite providers during the first quarter – the largest loss in history."