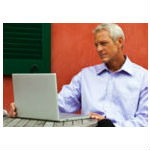 U.S. consumers are less satisfied with their Internet service providers than they are with any of the other 43 of 44 industries studied in the American Customer Satisfaction Index.
ACSI measures customer satisfaction on a scale of 1 to 100 – and in the latest ACSI data released today, the average score for ISPs was 65. In comparison, the average score for wireless service is 72 and for traditional phone service, it's 74. Paid TV providers — infamous for poor service — ranked 68.
In a report summarizing the findings, the ACSI attributed ISPs' poor performance to a low level of competition. "There is little incentive to improve service," the ACSI authors argue. "Dissatisfied customers have a difficult time leaving their provider for an alternative supplier."
ACSI based its rankings on a range of factors, including the ability to keep service interruptions and outages to a minimum, consistency of speed and service, overall data transfer speed, quality of video streaming, call center satisfaction and others.
Consumers rated ISPs particularly low on call center satisfaction, where the average ranking for all ISPs was 62. That's particularly bad news, considering that the average rating for call centers in all industries was 74 – and considering that nearly half of all ISP customers have contacted a provider's call center in the past year.
Areas where ISPs rated the highest were on service interruptions and ease of understanding the ISP's bill, where ratings were 74 and 73, respectively. But those ratings were not particularly impressive in comparison with other communications services. The average satisfaction rating for communications service interruptions is also 74 – and the communications industry average rating for easy-to-understand bills was higher than the score for ISPs.
Smaller ISPs and Verizon's FiOS Internet service had the highest satisfaction ratings within the ISP category. The FiOS score and the aggregate score for smaller ISPs came in at 71. Also exceeding the average was Cox Communications, which measured 68.
AT&T's U-verse offering and Charter Communications came in at the ISP average rating of 65.
ISPs falling below the average were CenturyLink (64), Time Warner Cable (63) and Comcast (62).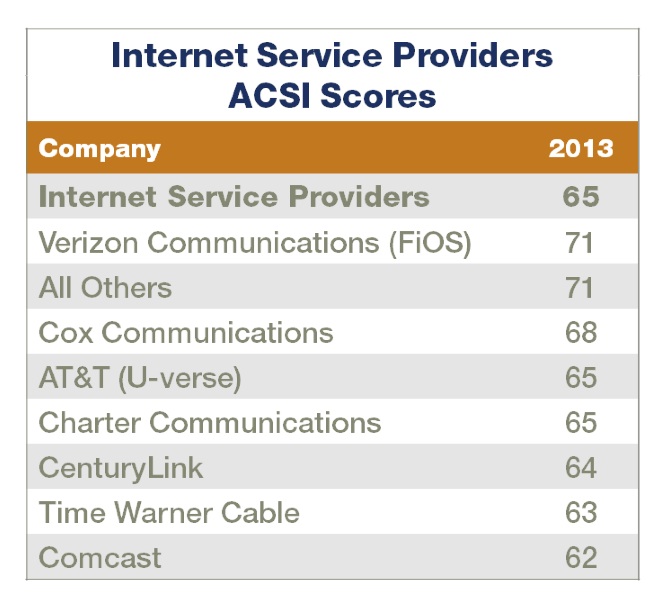 This is the first time the ACSI has measured customer satisfaction levels for ISPs – and I would expect the numbers to improve the next time around.
The communications industry usually takes surveys such as these quite seriously, particularly considering that where competition does exist, the companies with the higher ratings tend to lord it over their competitors. When the FCC rated Cablevision poorly for delivering advertised broadband speeds a couple of years ago, Verizon cited the data in its advertising – until Cablevision beefed up service and shot toward the top in the FCC's next report.