Internet service providers (ISPs) are performing worse than ever in terms of customer expectations, according to a new ISP customer satisfaction study from the American Customer Satisfaction Index (ACSI).
Specifically, ISPs had a 62 satisfaction score out of 100, down 3.1% from the previous report.
Verizon Fios remained in first place at 70 after a 1 percent dip. AT&T Internet also fell 1 percent for a second-place score of 68, followed by Optimum, which dropped 6 percent to 64.
Suddenlink and Spectrum both dropped 8 percent to 61 and 60, respectively, followed by Xfinity, which was unchanged at 60. Xfinity was the only service that did not see a drop in its score.
Mediacom placed last with a 53 score after a 9 percent drop year over year, according to the report.
ISP Customer Satisfaction
Internet provider call center satisfaction, already low, fell another 3 percent to 59. Customers are also less satisfied with overall data transfer speed, which sank 3 percent to 67, and the variety of internet plans available, which shed 3 percent to hit a score of 64.
Some of the strongest contributors to internet customer satisfaction were the helpfulness of store and service center staff, and the speed of store and service center transactions, which were rated at 76 and 74, respectively, although both were down from last year.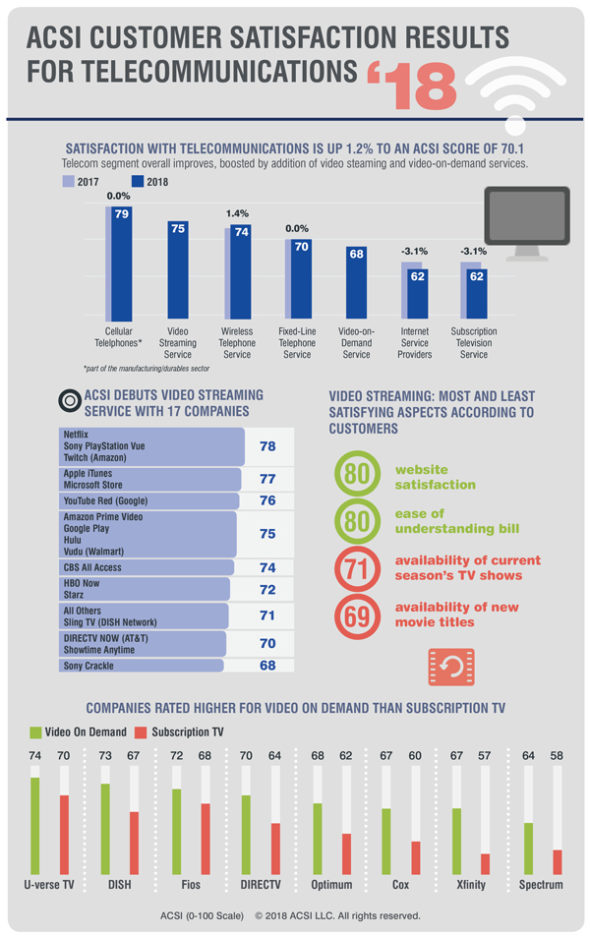 ACSI also found that video streaming services receive much better customer satisfaction scores than subscription TV. But viewers need internet access to get streaming video. And unfortunately, internet service providers (ISPs), along with subscription TV, have the lowest customer satisfaction of all industries tracked by the ACSI.
ACSI postulated that one of the major factors behind the low internet provider satisfaction score is that more than half of U.S. consumers have only a single choice when it comes to high-speed broadband. Without another competitor in the market, the ISPs don't have competition forcing them to improve or risk losing customers, ACSI suggested.
The ACSI Telecommunications Report 2018, includes data on subscription TV services, video streaming, video-on-demand, internet service providers, fixed-line and wireless telephone services, and cell phone manufacturers. It's based on 45,292 customer surveys collected between April 19, 2017 and March 17, 2018.