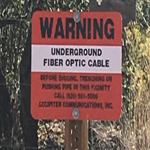 The news that Nebraska-based Pinpoint Holdings had purchased Arizona-based Accipter Communications, which operates as Zona Communications, is the latest example of telecom provider consolidation, but with a twist. Pinpoint bought Zona out of bankruptcy – a strategy Pinpoint has been using successfully. You could think of Pinpoint as a distressed telecom assets specialist.
"We look for distressed assets as opportunities," said Doc Wininger, Pinpoint executive vice president for external relations, in an interview.
Distressed Telecom Assets Strategy
Pinpoint traces its roots back nearly 100 years, to when it was formed as Cambridge Telephone Company, providing local phone service in Cambridge, Nebraska – a unit that Pinpoint continues to operate to this day.
When the 1996 telecom act opened up new opportunities, the company began exploring those opportunities, undertaking some fiber builds outside its initial territory. It also began making acquisitions – including buying a Denver-to-Chicago network from the bank that had taken it over.
"We do a good job of managing distressed assets," Wininger said. In deciding whether to make a distressed asset acquisition, the company looks for "what might have been missed."
Zona, for example, was the victim of "bad timing," according to Wininger.
Zona Pinpoint Deal
Zona was itself formed through an acquisition when the company purchased exchanges that US West (now part of CenturyLink) no longer wanted to operate. That makes Zona an incumbent carrier, even though it was founded in the 1990s when competitive carriers were emerging all over the country.
Over the years, Zona expanded to serve new housing developments as rural areas outside of Phoenix began to experience suburban sprawl. A substantial portion of the company's customers have fiber-to-the-home available to them.
Those are the favorable sorts of factors that generally make a service provider an attractive acquisition target. The problem for Zona was the housing crisis that began in the late 2000s, Wininger said.
Asked about the challenges Pinpoint faces in managing service provider businesses as far away as Georgia and Arizona, Wininger said the company leaves existing management in place where it makes sense. Zona CEO Patrick Sherrill, for example, will remain responsible for Zona day-to-day operations.
When necessary, however, Pinpoint has executives who will relocate.
Pinpoint self-funded most of its acquisitions, other than the Denver-to-Chicago network, Wininger said.