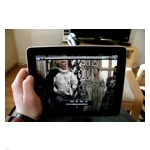 Dramatic growth in the use of smartphones and tablets is taking its toll on traditional television sets, notes consulting firm Accenture in its 2012 Global Consumer Electronics Products and Services Usage Report, released today.
The report, based on a survey of 10,000 people in 10 countries, found that smartphone ownership climbed from 28% in 2010 to 53% in 2011, with another 27% respondents saying they plan to purchase a smartphone in 2012. Tablet ownership jumped from 8% in 2010 to 12% in 2011 and another 16% have plans to purchase a tablet in 2012.
Increasingly consumers are using smartphones and tablets to watch video content, Accenture found. For example 44% of tablet owners stream media content, compared with 26% of respondents overall. Perhaps not surprisingly, the percentage of consumers watching broadcast or cable TV in a typical week fell from 71% in 2009 to 48% in 2011—and 32% of respondents said they had stopped or almost stopped renting or buying DVDs.
These behavioral changes have had a negative impact on the traditional television set market, with only 32% of consumers saying they intend to buy a TV set in 2012, down from 35% of respondents who said they planned to purchase a TV set a year earlier.
"Craving an always-on, always-connected lifestyle, consumers increasingly are using other consumer electronics devices in their daily lives to access the entertainment that only TV once provided," said Mitch Cline, global managing director of Accenture's Electronics & High-Tech Group, in an announcement of the survey results. "While consumers will no doubt continue to buy TVs, consumers' preferences are shifting. They are rapidly substituting other screens, such as laptops, desktops, tablets and smartphones, to view media content."
Ten percent of survey respondents were in the U.S., with an additional 10% coming from each of nine other countries, including Brazil, China, France, Germany, India, Japan, Russia, South Africa, and Sweden.
Manufacturers "should make it easy for consumers to switch between devices (such as having a common user interface) as consumers become increasingly device-agnostic in their daily technology-related activities," note the Accenture researchers in the report.
In addition, the researchers advise manufacturers to consider adding entertainment services to their portfolio to capitalize on the high use and growth in cloud-based services. In a typical week, 33% of consumers now watch shows, movies and videos on their computers and 10% are watching such content on their smartphones, the survey found.
Image courtesy of flickr user Ben Dodson.