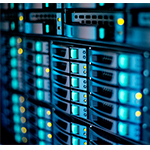 Enterprises are largely dissatisfied with the capabilities of their communications networks, even though a large majority of the companies surveyed have advanced technologies, according to a new enterprise network study from Accenture.
In the consulting firm's "Network Readiness Survey," Accenture found that more than three-quarters of enterprises have embraced advanced digital technologies, including big data/analytics (83%), digital customer experience (78%) and IoT/edge computing (77%).
Yet only a little more than a third (36%) report that they are "very satisfied" that their network has the capabilities needed for their business needs.
In the report, Accenture said that there is a serious gap between IT and business needs, citing as the primary hurdle the challenge of keeping networks in line with business demands, which 48% of respondents cited as the top barrier. Other barriers include "inherent complexities between business requirements and operational needs" and "demands for bandwidth, performance, etc., outpacing the ability to deliver," each cited by 45% of respondents.
Decision-making was one of the top reasons cited for the gap. Fewer than half of the respondents said the process was "always collaborative." However, CIOs/CTOs tend to see a greater amount of collaboration, with 58% responding "always collaborative," in comparison with 45% of business executives and just 28% of their direct reports.
"Business demands have outpaced the ability of IT to deliver services. Our research shows that organizations have more work to do to ensure that network limitations do not prevent them from meeting their current and future business goals. IT and business leaders need to collaborate more when making decisions about the network," said Prasad Sankaran, senior managing director and global lead of intelligent cloud and infrastructure at Accenture, in a prepared statement.
Image courtesy of flickr user Nan Palmero.