Deployment of next-generation 5G wireless networks could add approximately $500 billion to the U.S. gross domestic product (GDP) through direct and indirect benefits, according to a new report from Accenture. 5G wireless job creation could be as high as 3 million, Accenture said.
5G Wireless Job Creation
Accenture breaks down its 5G wireless job creation estimate into two categories. The company expects the wireless industry to invest up to $275 billion in 5G over seven years — an investment that would yield about 850,000 U.S. jobs, including jobs at supplier and partner companies. In addition, Accenture sees an additional 2.2 million jobs being created as a result of 5G economic benefits that would boost GDP by $420 billion.
The Accenture report, titled "How 5G Can Help Municipalities Become Vibrant Smart Cities," also notes that 5G could provide high-speed broadband to the 5% of Americans who currently do not have access. If localities embrace 5G and citizens who are not already online become adopters, an additional 870,000 jobs could be created and GDP could be boosted an additional $90 billion, researchers estimate.
"Because faster Internet connections allow users to utilize video applications for telecommuting, or participate in e-learning courses that give them additional skill sets or certifications, their employability and earning power increases, thus creating a more competitive workforce," the report notes.
Smart City Benefits
One of the reasons Accenture expects to see substantial investment in 5G is that the technology is expected to rely on large numbers of small cells, which will need to be deployed. Once deployed, however, that infrastructure will be well suited to supporting smart city technology, which Accenture sees providing strong economic benefits. Among these are energy-saving smart grid technology, fuel-saving vehicle-to-vehicle technology, revenue-generating smart parking technology, crime-reducing gunshot detection technology and others.
Researchers looked at the potential impact of smart city technology on communities of three different-size cities – including Saratoga, Calif. (population 29,900); Beaumont, Texas (population 118,000) and metro Chicago (population 9.5 million). 5G wireless, coupled with smart city technology, could create 300; 1,000; and 90,000 jobs, respectively, in those communities, researchers said.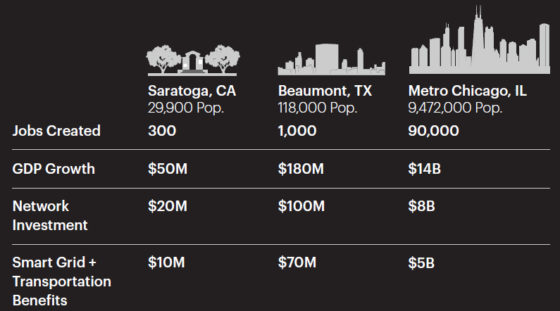 The Accenture research seems over-optimistic to me. Just because a workforce becomes better trained doesn't necessarily imply that jobs will exist for them. And I have to question how soon vehicle-to-vehicle technology will yield the benefits Accenture outlines, considering that the average age of cars on U.S. roads has been climbing.
Nevertheless, the Accenture research highlights the important ways that 5G could positively impact the U.S. economy — even if actual benefits are less than Accenture estimates.