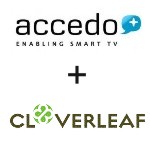 TV application provider Accedo's acquisition of managed service provider  CloverLeaf Digital, announced today, has "two or three primary synergies," said Lawrence Brickman, vice president of application solutions and general manager of CloverLeaf Digital, in an interview.
"Cloverleaf has focused on managed service providers and managed IPTV service providers," said Brickman – and many of those companies are Tier 2 and 3 rural U.S. telcos, he said.
Accedo, on the other hand, is stronger with Tier 1 service providers – primarily in Europe and Asia – and that will position CloverLeaf better to serve that sort of customer, Brickman said.
Brickman, who came from the CloverLeaf side, said rural telcos are asking for FiOS- and Android-style apps and TV Everywhere solutions. "They want all the things the big guys have, but no one has the resources to underwrite the development effort," he said.
By combining the assets of Accedo and CloverLeaf, the merged company will be better able to support rural telcos because it will have "more to bring to the table," said Brickman.
"We will be able to lead innovation and participate at the front of the new ecosystem that is emerging," Brickman said.
The combined entity, he said, will be able to compete "with some of the world's largest telecom companies and some of the largest programming networks and platform providers – it's an exciting high stakes stage, and TV apps will be at the center of that."
There may be some product duplication on the app side, but Accedo does not expect to phase out any duplicate offerings —  at least not  for now.
Moving forward, product development teams that originated with both companies will work together on new offerings. Brickman declined to offer details there but did offer some ideas on which TV apps he sees having the most promise in the future.
"We're pretty confident that as the industry and user experience evolve, the impact of the Internet continues to take hold of the television experience," he said. "The entire TV experience will be app-centric."
Brickman said it's "not hard to see the day where instead of having multiple channels of ESPN as well as on-demand and dotcom, one central app will combine multiple linear streams with ancillary content such as social networking —  and with the whole thing built into one super-app."
He added that the day is not far off when major media companies and programmers will have their own environment.
Accedo and CloverLeaf are no strangers to one another, having previously collaborated on IPTV games.