The American Cable Association, which represents small, primarily rural, cable companies, is again asking the Federal Communications Commission to report on and study the closing of smaller cable systems, including why the closings occurred. Ninety-one cable systems serving more than 5,300 subscribers shut down in 2014, on top of 133 cable system shut-downs in 2013 and 129 shut-downs in 2012 that impacted more than 12,000 people, according to the ACA. 
Using data from the National Cable Television Cooperative (NCTC), the ACA reports that all told, since 2008, NCTC members have closed a total of 1,169 cable systems, affecting over 55K subscribers. The filing comes as the FCC requested data for their "Annual Assessment of the Status of Competition in the Market for Delivery of Video Programming" report to Congress
"Assuming that current market trends for programming costs and multichannel video revenues continue, by 2020, video margins for smaller-scale MVPDs will turn negative," says ACA in their filing. "As video margin erosion continues, ACA expects cable system closings will persist."
In the filing with the FCC, the ACA included a previously published report that links the important role that video plays in supporting broadband services and deployment.
Rising Cable Content Costs
The ACA's filing was made on Friday in response to a public notice seeking information to enhance the FCC's analysis of competitive conditions in the video marketplace. It follows at least two previous ACA filings urging the FCC to do more to help small cablecos.
At least once previously the ACA asked the FCC to study the decline of rural cablecos. And back in April the ACA filed a report about the impact of  rising video programming fees on rural broadband deployment that also accompanied Friday's filing. 
The new ACA filing, like the previous ones, places the blame for small cableco shutdowns on programming costs, which have risen at a rate so high that cablecos have been unable to keep pace with it in terms of price hikes.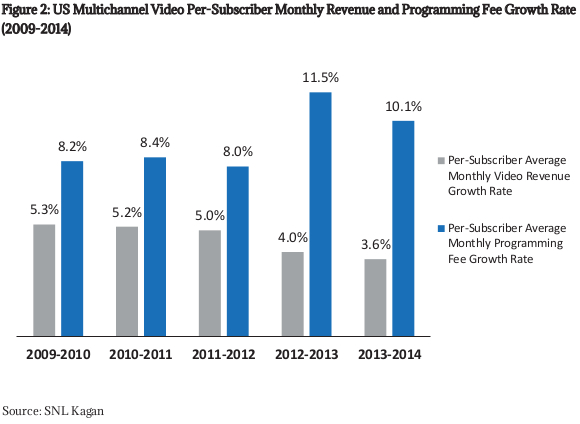 As Telecompetitor reported back in April, the ACA conducted an analysis of the likely impact of video programming costs with the help of research firm Cartesian. That analysis, referenced in the new filing, divides small cableco broadband deployments into several different categories – including rural expansion, new fiber overbuild, telco fiber overbuild and suburban incumbent expansion. The analysis also considers several different video strategies these companies could use, including offering slimmer video bundles, a broadband-centric approach and "cablization" of the Internet.
According to a summary included in the new filing, the ACA/ Cartesian analysis shows that for virtually any deployment type or strategy chosen, the business case for new broadband deployment will deteriorate in the coming years if programming costs continue their current trend.