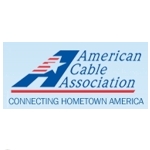 Although most are not known outside their local — primarily rural — communities, small cable companies offer advanced communications services to 14% of U.S. homes, according to a report issued today from the American Cable Association. The ACA advocates for more than 800 small cableco members, who have an average 36% market share in their serving areas according to the ACA.
Understanding the role that ACA members play in offering video, data and voice services in rural areas is important at a time when policymakers are in the process of transforming today's voice-focused Universal Service program to a Connect America Fund focused on broadband. Somewhat less than half (43%) of ACA members are small telcos that have cable operations. A slightly higher percentage (44%) is comprised of traditional cable operators, while 13% are municipalities or other types of organizations.
The ACA report — titled "Connecting Hometown America: How the Small Operators of ACA Are Having a Big Impact" and prepared with the assistance of professional services provider Cartesian – makes few specific policy recommendations, however. Instead, the organization seems to have made the judgment that data contained in the report speaks for itself.
The report notes, for example, that an estimated 1.6 million homes in ACA members' territories are considered "high cost" according to the FCC's latest cost model. That's equivalent to about 9.3% of all U.S. high-cost locations.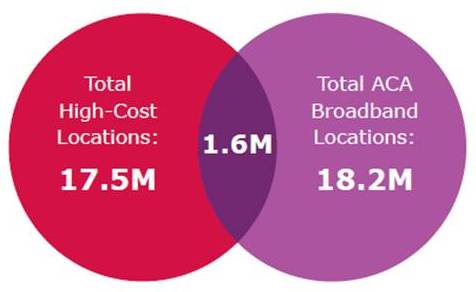 More than half of those locations would be eligible to receive government broadband funding if not for the presence of ACA members, the report says. (CAF rules prevent carriers from receiving funding for areas where another network operator already provides broadband service.)
"By providing broadband to 842,000 homes that would otherwise be eligible for subsidies, ACA's cable operators free up government funds to help more remotely located homes," the authors write.
Not surprisingly, considering its small telco membership, the ACA aimed its critique of government subsidies primarily at large telcos that also serve rural areas. "Local and regional cable operators must compete against large telephone companies receiving government subsidies to provide broadband to unserved areas," the authors write.
Telephone companies that serve rural areas counter-argument is that they are required to bring service to anyone within their territory, while cable operators often serve only the most densely populated central portions of rural areas, leaving the telcos to serve the less densely populated surrounding areas. ACA members serve 19% of the U.S. population in small cities and rural areas, according to the report released today.
ACA members are eligible to receive at least one type of Universal Service funding, however. The authors note that hundreds of ACA members have received grants for providing communications services to local schools and libraries through the Universal Service schools and libraries program, also known as E-Rate. ACA members were awarded $88 million through the E-Rate program in 2013, helping them to offer advanced communications services to more than 30,000 community anchor institutions in small towns and rural areas, the report notes.
Members' competitive role
The ACA report also touts the competitive role that its members provide in the cable market. ACA members include several companies that have built new facilities in areas where another cable operator also provides service, thereby offering competition to that provider, the report notes. The largest of these members are WideOpenWest, RCN, Wave Broadband and Grande Communications.
ACA's cable overbuilder members offer service to 4.8 million homes in large metro areas and 563,000 homes in rural areas and small cities, according to the report.
Other interesting information from the report:
No ACA member has more than one million subscribers.
The median number of video subscribers per member is 1,060.
The great majority of ACA members' subscribers receive services over cable networks with 750 MHz of bandwidth or higher.
The footprint of ACA members includes more than 1 million businesses, 97% of which have fewer than 50 employees.
ACA members employ nearly 41,000 people, with an average of 10 employees per member.