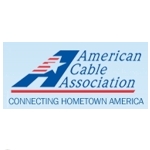 An association that represents small cable companies, including some owned by small rural telcos, advocates a minimum broadband speed of 16 Mb/s downstream and 4 Mb/s upstream for the proposed broadband Universal Service program. The American Cable Association (ACA) made its recommendation in comments filed with the FCC this week about Universal Service reform.
The ACA is not the only organization filing comments with the FCC that has said the 4 Mb/s downstream – 1 Mb/s upstream minimum speed recommended by the commission is too low. But others arguing against that target have not specified an alternative speed. For example, OPASTCO, the NTCA and other rural telco organizations have argued simply that target speeds should be comparable with what is available in metro areas.
Other recommendations made by the ACA in its filing include:
Funding for broadband should come from reductions in the high-cost Universal Service fund
Eliminating high-cost support where competition exists
Providing broadband support to unserved households on a competitively-neutral and objective basis
Providing a reasonable but not unlimited transition period
It's not surprising to see the ACA recommend that funding be issued on a competitively-neutral basis, considering that cable companies' infrastructure can support broadband services. And considering that rural telcos are a substantial portion of its membership, it's not surprising to see the group advocating a reasonable transition period, as many of those members undoubtedly draw funding through the current Universal Service program.
What is somewhat surprising, however, is the group's recommendation to fund the broadband Universal Service program through reductions in the size of the high-cost fund. Rural telco groups have argued that the overall funding level for Universal Service should be increased by expanding the base of contributors to the fund as a means of getting higher-speed broadband deployed nationwide. The ACA apparently believes that if the target speed is 16/4 and if cable companies are eligible for funding, nationwide broadband could be deployed without a funding increase.
The coaxial cable that cable companies have installed in their networks is typically capable of supporting higher broadband speeds than the copper wiring that telcos traditionally have used, so on average, we would expect that cable companies could reach the 16/4 speed with a lower capex outlay than a telco would require to upgrade its copper plant. That assumes, however, that the cable company already reaches everyone that requires service. And that may not be a correct assumption—at least not in all cases.
The ACA filing does not discuss carrier of last resort obligations, but the competitiveness of cable companies in meeting broadband deployment goals could hinge on what stand the FCC takes about those obligations.  It's not uncommon for cable franchise agreements to allow cable companies to charge a fee to bring service to customers in areas not already reached by the cable company's outside plant—and the FCC has hinted that it might consider such an option with regard to broadband COLR obligations.
COLR obligations also could impact the viability of the ACA's recommendation that telcos should not receive high-cost funding in areas where competition already exists. If a cable company covers some but not all of a rural telcos' serving area, the telco would argue that it still requires funding because not all of its customers have a competitive choice.
Telcos also would argue that a fiber-to-the-home approach to broadband is more future-proof because long-term it can support higher speeds than a coaxial cable network can support.