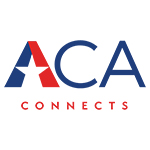 The former American Cable Association (ACA) is holding their annual Summit this week in Washington DC. ACA CEO Matt Polka kicked off the meeting this morning announcing a name change for the association that represents small, independent cable companies.
ACA will now be known as ACA Connects, or America's Communications Association. The name change highlights the changing nature of the cable industry, which is transitioning to a primary focus of delivering broadband, with legacy cable TV service now taking a back seat.
It's a theme that's been in the works for several years now, with independent cable industry organizations like ACA and NCTC highlighting this shift. Just last month, the NCTC Winter Educational Conference featured the shifting nature of the business of their cooperative members.
"It's all about the communications and connections our members provide," said Polka in a prepared statement. "Even though our industry and technology are changing so rapidly fueled by our members' broadband deployments, what's most important for our members and their customers is the ability to communicate freely and connect in their homes and businesses in countless new ways. With this name change, we're recognizing that communication is the priority, not the medium."
This is the second name change for the association which began as the Small Cable Business Association. Based in Pittsburgh, ACA Connects represents more than 700 smaller and medium-sized, independent companies that provide broadband, phone and video services to nearly 8 million customers primarily in rural markets.