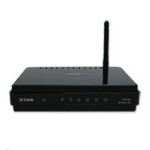 Shipments of core home networking equipment and network-enabled media consumer (CE) devices will exceed 1 billion units come 2014 as the number and variety of connected media devices continues to grow, says ABI Research.
For ABI's "Home Networking Market Data" report, shipments of core home networking equipment included home gateways and routers, adapters, bridges, NICs (Network Interface Cards), embedded LAN, and NAS (Network Attached Storage). Network-enabled media devices included all CE devices with network connectivity, excluding computers and mobile devices.
"On the CE side, TVs, Blu-ray players, and set-top boxes are expected to lead in shipments," commented ABI senior analyst Michael Inouye. "As pay-TV operators continue to push new services and features, such as multiscreen initiatives and whole home DVRs, connectivity will increasingly come to the forefront of the digital living room."
ABI expects Wi-Fi to continue as the most common  technology for connecting networked devices, representing 60% of the connections for most devices.
A variety of alternative home networking standards have been introduced in recent years, however, and ABI researchers predict that these alternatives will gain traction in coming year. Among these alternatives are MoCA, G.hn, power line communications and HomePNA. Consumer awareness and acceptance of these options has thus far been lacking, but ABI expects that to change as pay-TV and broadband providers increasingly use media devices to extend their services throughout homes.
"The market vision is to enable a seamless networking environment that will rely on a number of technologies," Inouye added. "A consumer, for instance, might start a file transfer to a media tablet using 60GHz wireless technology, then switch to a 5GHz technology as the device moves about the home, and then again, unbeknownst to the consumer, switch to MoCA to finish the download as the tablet is docked.
"Even with working groups such as P1905.1 building toward a connected networking environment, this future will still need the support of all companies throughout the value chain, considering the large number of consumers who in past primary studies have shown a general lack of awareness about the networking technologies currently in their homes."
Eight in ten US broadband households have a home network, with nearly 40% of home network routers located in residents' primary living rooms, according to a recently released report from TDG, The Diffusion Group.