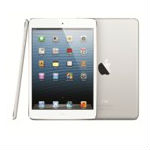 First quarter 2014 proved to be a somewhat discouraging one for tablet vendors, as unit shipments declined 30 percent. Growth will resume over the course of this year, however, according to the latest market forecast from ABI Research.
Branded OEM tablet shipments will rebound and close out the year exceeding 200 million, ABI forecasts in its Media Tablets, Ultrabooks & eReaders Market Research. Moreover, ABI says 2014 "should be a watershed year for the tablet installed base, with active Android devices surpassing iOS for the first time."
"Tablet hardware sales from branded OEMs are likely to top US$85 billion this year," ABI senior practice director Jeff Orr was quoted in a press release. "We have yet to reach the top of the tablet market and with many world regions just now starting to adopt, the best is yet to come."
ABI notes that "Intel aims to make a large splash during 2014 with a projected 40 million devices powered by its processors." The market research company anticipates that smaller manufacturers in China and Taiwan developing next-generation Android tablets will account for a significant percentage.
Taken together, tablet shipments to China and India will account for over 35 percent of 2014 shipments across the Asia-Pacific region, ABI predicts. Tablet chip-set suppliers such as MediaTek, Qualcomm and Samsung "are also making in-roads with tablets destined for the Asia-Pacific region…Tablets made in China for China have been a major influence in the white box (non-branded) segment and pressures are mounting as audiences seek local service and support."
And while ABI sees Samsung closing the gap on market leading tablet OEM Apple, the iPad will remain the leading brand of tablet through 2014. Collectively, the two could account for 70 percent of worldwide brand-name tablet shipments come year-end, ABI says.
Commenting on tablet market rankings, Orr said, "Looking back over the past three years of the tablet boom, the leading vendor order has remained largely unchanged. Lenovo is the most obvious standout as it has executed tablet strategy well both in China and abroad."