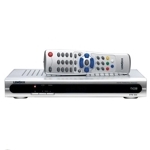 As IPTV, cable and satellite providers merge there is a corresponding need for consolidation among set-top box (STB) manufacturers, according to ABI Research.
AT&T's acquisition of DirecTV highlights the need for STBs that can serve multiple networks, ABI says. Accounting for around 37 percent of the market, the top five STB vendors – Arris, Cisco, Technicolor, Pace and Echosta – tend to be "heavily weighted to one sector, or, in some cases, have robust proportions serving two or three sectors," the market research provider notes in its "Set-Top Box and Home Networks Market Research" service.
A Fragmented Set Top Box Market
"This mature, yet fragmented market, in which the top five vendors account for about 37% of revenues, is ripe for further consolidation," elaborated ABI Research practice director Sam Rosen.
"We continue to believe that integration of historically separate cable and IPTV providers with satellite set-top OEMs would bear fruit in the increasingly hybrid set-top box world generated with acquisitions such as AT&T's acquisition of DirecTV."
Forecast to peak at around 265 million units in 2015, some 236 million STBs were sold worldwide in 2012, according to ABI. Arris held on to its market-leading position in 2013, generating $2.1 billion in STB revenues from sales of around 18.5 million units with a cable and IPTV focus. More concentrated in the satellite and smaller cable and IPTV market segments, Pace ranked second in revenue, though it dropped back of third-ranked Technicolor in terms of volume.
Commenting on the performance of the leading STB vendors, Rosen stated, "Pace performed a significant feat increasing revenues slightly with 10% lower volumes by focusing primarily on the high-end gateway market. This position, along with its focus on services, seems to be yielding fruit."