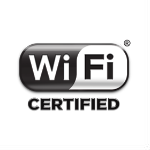 More than 66% of connected non-mobile and computing CE devices will support Wi-Fi Direct, with the majority also Miracast-certified as well, according to a new report from ABI Research. While Wi-Fi Direct supports peer-to-peer connections between Wi-Fi devices, Miracast, a new Wi-Fi media sharing brand launched by the Wi-Fi Alliance, supports display of video content from tablets, smartphones and other devices to the TV, ABI explains.
Growing developer use of Miracast will facilitate delivery of small screen content to the TV. That will make mobile devices a portable entertainment center, according to ABI analysts. Miracast certification is expected within the next few months, ABI notes in its latest Home Networking Research Service report, with Wi-Fi services that will enable new functions, such as printing and gaming, coming in 2013.
The enhanced interoperability Mircast affords will pose a real challenge to Apple's AirPlay "ecosystem" that delivers and shares content across multiple devices, according to ABI senior analyst Michael Inouye.
"Part of Apple's success with AirPlay stems from its cohesive ecosystem – consumers know that multiple Apple products will work together. Unfortunately, interoperability eludes other consumers, despite standards like DLNA.
"The desire by competitors to replicate Apple's ecosystem has done more to fragment the market than support ease of use and interoperability. These new initiatives are attempting to address these shortcomings. Strong adoption by vendors, coupled with a better sense of what consumers want, will translate to increased consumer use in time."
Next Generation Wi-Fi
Also on the near-term horizon, next-generation wireless technologies, more specifically next-gen Wi-Fi standard 802.11ac, is already available in select broadband routers, with laptops not far behind, ABI notes. Branded as 5G or gigabit Wi-Fi, 802.11ac will appear first in higher end CE device models, then trickle down through lower price model tiers.
In addition, "60GHz wireless technology (802.11ad/WiGig) in tri-band configurations could also enable new usage models and experiences with its robust data rates (at shorter distances)," ABI says.
"Consumers today are looking for big-screen entertainment but prefer browsing and navigation on touch devices close at hand. Improved wireless performance and standard support for ubiquitous media sharing will give application developers the opportunity to deliver the next wave of interactive advertising and shopping experiences," commented ABI TV & Video Practice director Sam Rosen.