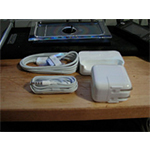 The secondary, or aftermarket, for mobile accessories will grow to exceed $110 billion in 2021, according to a mobile accessory revenues forecast from ABI Research. Aftermarket purchase/sales of Bluetooth smartphone headsets will grow fastest, rising at a 9% CAGR from 2016-2020, ABI highlights in an excerpt from its Mobile Device Accessories Service.
Aftermarket sales and purchases of mobile device screen protectors, protective cases and chargers will also fuel growth over the forecast period. ABI also foresees strong growth in wired smartphone headsets, ¨as consumers usually have to buy additional headsets for their smartphones,¨ ABI Senior Analyst Marina Lu commented.
Mobile Accessory Revenues Forecast
Aftermarket mobile accessories vendors are also customizing products per device owners' tastes and preferences. Besides producing a range of protective case designs, they're adding new features to cases, including wireless charging, memory expansion and shock-resistance, ABI notes.
The range of features of screen protectors is also expanding, notes the ABI mobile accessory revenues forecast. These include: privacy protection, anti-glare, anti-fingerprint, anti-scratch and higher transmittance.
Furthermore, ABI expects wireless charging pads will become much more prevalent over the next five years. "Specifically, emergency charger shipments are taking off, as consumers' dependence on mobile phones is leading to quicker power consumptions and the need for more frequent charging at different locations," Lu concluded. "Given users' attachment to their smartphones and their wants and needs to personalize and protect them, the aftermarket mobile accessories market is showing no signs of slowing down."
Image courtesy of flickr user Bill Bradford.