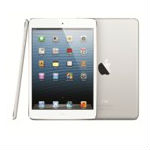 Pricing and functionality are the focal points for tablet shoppers around the world, a shift that benefits Google and its Android mobile operating system more so than Apple's iOS-based iPad line, according to ABI Research.
Though Apple remains the single dominant player in the tablet market its share of worldwide media tablet shipments shrank to 50% as of end 1Q13, and "the Android ecosystem is poised to overtake iOS," ABI says.
"It's inevitable that Android tablets will overtake iOS-powered slates, though we see no single vendor challenging Apple's dominance anytime soon," senior practice director Jeff Orr elaborated. "With media tablets commercially available for more than 4 years, momentum is shifting toward value and affordability, putting tablets in more of the population's reach."
The China market, where the Apple brand is prized, is the key variable for Android, according to ABI. That said, 7-inch Android tablets have become popular in China, "though most lack the Google suite of apps and Android Play marketplace.
"A push for sub-$200 tablets is keeping Android relevant in both developed and emerging markets," ABI says. Average selling prices (ASPs) and tablet size "have been moving down-market since Android tablets starting honing in on the opportunity in 2012. Rather than trying to unseat Apple in the 10"-class space, tablet vendors sought a defensible area they could win, the result is the 7"-class devices."
Apple responded with its own 7.9-inch iPad mini, which experienced supply and manufacturing constraints in 4Q12. But in 1Q13 Apple was able to eliminate its backlog and get back on the company's typical 4-6 weeks of sales channel inventory while recording its second-best ever quarter for total iPad shipments, ABI said.
The iPad mini accounted for 49% of units and 39% of Apple's overall iPad revenues, according to ABI. "Expect iPad minis to become the predominant iPad model after the June quarter," Orr said.
For more, check out ABI's Media Tablets, Ultrabooks & eReaders Research Service.