Over the last couple of years we've heard the term rural/ rural divide used to describe the different broadband availability rates between areas served by rate of return and price cap carriers. (People in areas served by rate of return carriers are more likely to have broadband than those in price cap territories.)
But as a report issued this week from the National Telecommunications and Information Administration (NTIA) and the Commerce Department's Economics and Statistics Administration (ESA) illustrates, there's also another type of rural/ rural divide. As a blog post written by NTIA and ESA officials notes rural areas can be either within metropolitan areas (exurbs) or outside metro areas. The officials call the latter "very rural areas."
And while exurbs and very rural areas each represent about 9% of the U.S. population, there is a wide gap in broadband availability between these two types of areas. The NTIA/ESA research shows that in 2011, 76% of exurb residents had access to broadband at speeds of at least 3 Mbps downstream and 768 kbps upstream. But only 65% of residents in very rural areas could say the same.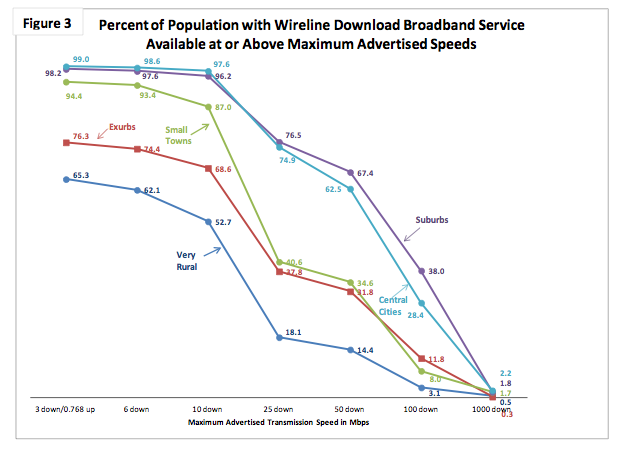 The gap is even wider at higher data rates – with 38% of exurban residents having access to 25 Mbps downstream broadband, compared with 18% of very rural residents.
"The closer a community lies to a central city, the more likely it is to have broadband at higher speeds," the blog post notes. "This is significant because some lower-density communities are located closer to the central city of a metropolitan area and have more access to faster broadband speeds than higher-density communities that are more distant from a central city."
The NTIA and ESA officials suggest that the report's exploration of broadband adoption rates may help policy makers, community leaders and industry officials to "better understand future broadband infrastructure investments."
This is the second report released by the NTIA in the last month that analyzed broadband deployment data in a highly granular manner. In mid-May the agency released a report that looked at broadband availability by technology, by state, by county and by various combinations of these factors.