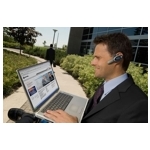 The worldwide population of "mobile workers" will surpass 1 billion this year and continue growing to include nearly 1.2 billion people by 2013–more than 1/3 of the global workforce, according to an IDC forecast.
The U.S. will continue to be home to the highest concentration of mobile workers, as defined by IDC, though the Asia-Pacific region ex Japan is and will continue to be home to the world's largest population of mobile workers.
According to IDC's study, "Worldwide Mobile Worker Population 2009-2013 Forecast," 72.2% of the U.S. workforce was "mobile" in 2008, and that will rise to 75.5%–119.7 million workers–in 2013. By comparison, there were 546.4 million mobile workers in the A-P region in 2008, a figure that will grow to reach 734.5 million–37.4% of total workforce–in 2013.
IDC doesn't provide its definition of a mobile worker in their discussion of these results. You probably have to buy the study to find out. But generally speaking, mobile workers are defined as workers who can continue the duties of their job, regardless of location, thanks to mobile technologies and devices like laptops, netbooks, and smartphones.
Current growth trends and forecasts such as this have mobile application and enterprise software developers chomping at the bit. "Vast opportunities exist for bringing a variety of mobile technologies to the world's workforce," Sean Ryan, IDC research analyst, Mobile Enterprise Software, said in a news release.