The best structure for the upcoming 600 MHz voluntary broadcast spectrum auction would use a two-step process that would focus first on metro areas, followed by a rural auction, argues a new paper penned by NERA Economic Consulting. The paper titled "Local and Regional Licensing for the US 600 MHz Band" was commissioned by NTCA- The Rural Broadband Association and the Rural Wireless Association, and has been filed with the FCC.
The NERA 600 MHz auction proposal represents a middle ground between large carriers that have argued for the auction to include no more than 176 license areas and smaller carriers represented by the Competitive Carrier Association, which has argued for as many as 734 license areas. The 176-license level is based on economic areas (EAs) and the 734-license level is based on smaller cellular market areas (CMAs).
Both EAs and CMAs have been used in previous auctions. But larger carriers argue that the use of CMAs makes it challenging for carriers to win contiguous target territories – a concern the NERA authors call "aggregation risk." Meanwhile, smaller carriers argue that they would be locked out of the broadcast auction if licenses were issued on an EA basis because they cannot afford to bid on a license for an entire EA.
The NERA paper builds on the partial economic area (PEA) idea originally proposed by the CCA as a fallback approach if the FCC rejected the CMA approach. NERA proposes modifying the CCA's original proposal to create up to 428 PEAs. According to the NERA proposal, PEAs would be created based on two key rules:
All metropolitan statistical areas within an EA would normally be included in the same PEA
Rural statistical areas would normally be defined as standalone licenses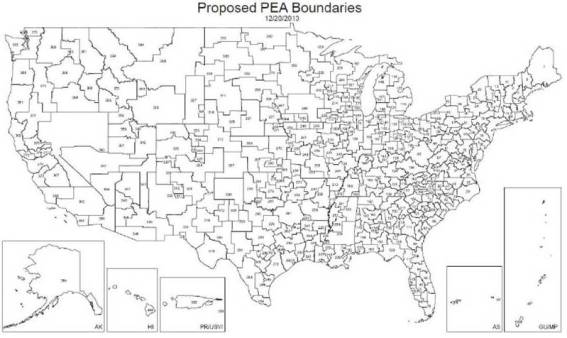 NERA argues that auctioning the metropolitan areas first would minimize aggregation risk, mitigate uncertainty over roaming partners and mitigate uncertainty over the band plan. The latter is a concern unique to the incentive auction because the exact amount of spectrum that will change hands won't be known until the auction gets underway and the extent to which broadcasters and network operators have a meeting of the minds on spectrum prices is known.
Several small carriers have said they would not bid in the upcoming auction if spectrum were auctioned on an EA basis – and the NERA report includes an analysis showing how several of those carriers would be more likely to bid if the PEA approach and two-stage auction were used.
The report also argues that the PEA approach, combined with a two-step auction, will best meet the FCC's policy objectives of:
Economic efficiency
Promotion of sustainable downstream competition
Raising revenues
Successful implementation of a complex auction
Public policy and statutory obligations in relation to smaller carriers and rural areas
"The commission can take a giant step toward promoting greater consumer choice in this market by structuring spectrum auctions and licenses in a manner that does not lead to just big providers winning big blocks and rural communities going unserved after urban build-outs," said NTCA CEO Shirley Bloomfield in a press release about the NERA report.