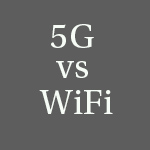 There is a bit of a brewing debate regarding the impact of 5G on WiFi and vice versa. Will one impact the other, impeding its growth and use? The WiFi industry rebranded itself a bit, introducing a naming protocol that some argue was in response to this debate.
Was it an accident that WiFi 6 debuted right in the middle of the 5G hype cycle? Maybe. But both technologies aim to dramatically increase wireless performance and further enable the true Internet of Things, providing connectivity to a plethora of devices.
Verizon EVP and Consumer Group CEO Ronan Dunne added some fuel to this debate fire this week at an investor conference being held in Las Vegas. During a Q&A session of the 2020 Citi TMT West Conference, Dunne suggested 5G  will eventually become a replacement technology for WiFi, eliminating the need for one of the most ubiquitous technologies in the history of technology.
"In a world of 5G millimeter wave deployment, we don't see the need for WiFi in the future because we have a more secure network environment, we have much higher performance criteria, and we have the ability to, you know, hand off sessions, etcetera, etcetera," Dunne said. "Our view is that when that is fully deployed, there are substantial environments in which public WiFi will be eliminated in favor of millimeter wave because of the security, reliability, and service capabilities."
A pretty bold statement, given the role of WiFi in today's society. Dunne went on to qualify he doesn't see WiFi hotspots going away anytime soon, especially given the dependence on WiFi by the cable industry. He also qualified his statements by suggesting Verizon may be in the minority with this view.
Some WiFi advocates argue that 5G doesn't really bring anything new and compelling over 4G and WiFi, and given the role WiFi plays today, it's hard to imagine 5G making much of a dent in its role, much less supplanting it. Dunne even admitted that somewhere between 70 % and 75% of data traffic on handsets today is over WiFi.
The moderator correctly responded to Dunne's answer with a follow up question regarding the necessary investment that would be required for 5G infrastructure to supplant WiFi. Specifically, the millions of small cells that would be required. Dunne seemed confident that Verizon's strategy, especially using repeaters and indoor nodes, should be able to handle this.
The answer seemed to really oversimplify the problem. It's hard to imagine any technology supplanting WiFi, especially within the home. Connected homes now heavily rely on WiFi access for in-home connectivity, and most non-smartphone devices ship with embedded WiFi chips, and are not 5G compatible.
To change that current reality, moving from WiFi compatibility to 5G, seems like a herculean and super expensive task. Count me in as quite skeptical.
Where Dunne's argument may make some sense is in the public WiFi hotspot arena, where the security of 5G networks may give it an edge over public WiFi. But there are many variables, even with that, including capacity and 5G usage plan implications that have yet to be figured out.
Personally, I fail to see this debate as all or none. It's hard to envision a future where both 5G and WiFi don't coexist, providing specific use applications and complementing each other. Can't we all just get along?