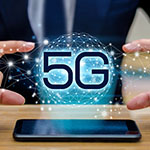 Verizon had the highest 5G speeds but smallest coverage areas in two markets studied in a new 5G speed report from IHS Markit's RootMetrics. The report was based on real world results in Los Angeles, where all four major carriers have deployed 5G, and Chicago, where all carriers other than AT&T have deployed service.
The unique strategies that carriers chose to enter the market clearly are reflected in the early results. Those differences are likely to fade, at least to some extent, as the category matures and the companies begin to address areas that were not initially focused upon.
"The promises of 5G include dramatically faster data speeds and lower latency," the study says. "That said, access to the fastest 5G speeds depends on what spectrum each carrier has available. We're still in the early days of 5G and expect to see even faster speeds over time as 5G network coverage expands and as the carriers make technology upgrades."
5G Speed Report Results
In Chicago, Verizon 5G clocked in at a maximum speed of 780.1 Mbps, far faster than Sprint's 249.9 Mbps and T-Mobile's 147.8 Mbps. In Los Angeles, Verizon's 5G measured maximum speeds of 627 Mbps. It was followed by Sprint at 201.1 Mbps, AT&T at 126.2 Mbps and T-Mobile at 125.7 Mbps.
The firm offered key takeaways from the early testing. AT&T's 5G performance was similar to – and in some cases slower — than its 4G LTE. However, the report says that "given AT&T's strong 4G LTE network, end users should still experience solid performance even when 5G isn't available, and AT&T's 5G results should only improve over time." Although AT&T has deployed 5G in high-frequency bands in some markets, it is using low-band spectrum in Los Angeles.
Sprint 5G operates in the mid-band and could continue beating AT&T and T-Mobile where those carriers use low-band spectrum, but will struggle against Verizon's high-band mmWave approach.
T-Mobile had good and bad results. On the positive side is the fact that it had large footprints in each city tested. The downside? Its early 5G speeds were slower than its 4G LTE speeds. RootMetrics expects this to change, however.
Verizon's 5G speeds were fast and its maximum download speeds "were remarkable," the 5G speed report said. Verizon's speed, along with a small footprint, was an expected result of the company's use of mmWave spectrum. In addition, researchers pointed out that Verizon's 4G LTE speeds were faster than T-Mobile's low-band 5G median download speeds in Chicago and Los Angeles and matched AT&T's low-band 5G median download speed in Los Angeles.
Verizon, which RootMetrics said "remains the carrier to beat at the national level," said last week that it was partnering with Dignitas in the esports sector. The initiative is part of an effort to give people something to do with all the 5G capacity the carrier is creating.
Joan Engebretson contributed information to this report.