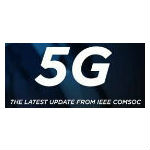 Revenues for 5G services will exceed $65 billion by 2025, according to a forecast from Juniper Research. That would be up from a forecast $100 billion in 2020, the year the first commercial 5G roll-outs are expected.
Surpassing $65 billion by 2025 would mean global 5G service revenue would account for 7 percent of operator-billed services overall, Juniper points out in a press release.
According to Juniper's "5G Market Strategies: 4G LTE Evolution, Spectrum Analysis & Opportunities 2015-2025,¨ 5G services will be widespread from 2025 onward. Regulators will allocate 5G spectrum over a period of years, as has been the case with 4G.
A minimum $25 billion will be invested in 5G technology research, development and trials over the next five years, Juniper estimates. The number of active 4G LTE connections will exceed 3 billion globally by 2020.
5G Revenue Forecast Drivers
Growing consensus among 5G standards-development participants bodes well for 5G's revenue outlook, Juniper notes, as consensus solidifies around both technology and performance requirements and specifications.
Among those, network speeds should be at least 10Gbps with 1-ms latency or less. Improved spectrum efficiency, low energy consumption, better battery life and higher device density are other aspects of emerging 5G performance requirements.
The launch of commercial 5G will be the key to rolling out a broad range of next-generation network products and services for consumers, businesses and government. These include: high-definition 4K-8K video, self-driving cars, advanced virtual reality, and Internet user interfaces that are tactile and sensory and are constantly monitoring and controlling processes.
5G network operators will need to deploy multiple services to earn an adequate ROI from network and license investments, Juniper says. "These discrete segments or services will require transparent and competitive pricing based on data usage, device type, and speeds; this means that profit margins will vary with regards to the sector enabled," research author Nitin Bhas was quoted as saying.