Fixed wireless access (FWA) generates the least revenue of eight 5G service types studied by professional services giant PricewaterhouseCoopers (PwC) in a 5G revenue analysis.
The researchers estimate that FWA service generates just 14 cents of revenue per gigabyte (GB) based on a price of $50 a month.
The service type that generates the most revenue per GB, according to the researchers, is internet of things (IoT) connectivity for low-usage plans. The researchers estimate that those services generate $16.89 per gigabyte, based on a price of $60 a month for a service limited to 5 GB per month.
The researchers estimated the revenue generated by mobile data services at between $4 and $5.67 per GB, with the highest-capacity plans generating the most revenue. That means those services generate 30 to 40 times the revenue per GB in comparison with FWA, according to the PwC 5G revenue analysis, titled "The Challenge of Monetizing 5G."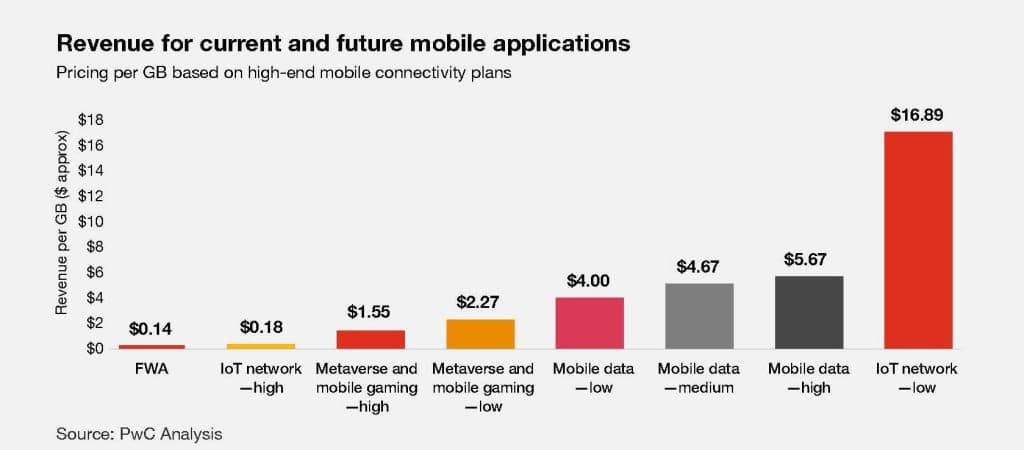 PwC wasn't totally negative about FWA, however. The report advises wireless providers to consider offering FWA in the short term while they await opportunities involving the metaverse.
Advice for Providers
The report was released the same day that AT&T's CFO said AT&T has little interest in FWA. He likened the service to "empty calories."
The lower revenue per GB hasn't stopped Verizon and T-Mobile from being bullish on FWA, however. Both companies view the service as generating incremental revenue from the network infrastructure they would have had to deploy anyway to support mobile service.
PwC's advice to network operators about 5G:
Get a handle on true network costs for 5G applications and educate the consumer
Talk to users and "up-stack" companies, including those involved in the metaverse, to understand which 5G capabilities are most valuable to them
Create and market service offerings that go beyond connectivity plans, such as hourly subscriptions for gamers
Gain a better understanding of subscribers' pricing propensity and thresholds based on the type of application
Establish profitable revenue-sharing models with cloud service providers